I've partnered with CVS to bring you a very fun giveaway to celebrate your life as mom. Congrats to the winners: gina.lang@, jackierwood83@, mwadeteacher@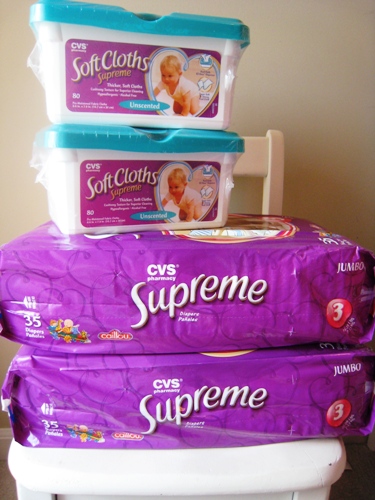 Five years ago, when I first started writing in this space, we were deep in consumer debt. We paid it ($18K) off after 18 months of really hard work. One of the means that we saved money was to use coupons and chase the deals mercilessly.
That is when I met CVS, this week's advertising sponsor. Each week I would pore over the weekly ad, match my coupons to the items they had on special, and visit two to three times a week to buy household items at a great discount.
I had kids in diapers during that time, so I absolutely LOVED the diaper and baby product deals. I found that their store brand, even five years ago, was just as good as the bigger name brands. I stocked up at every sale so as to have a stockpile when FishBaby arrived.
I had never thought to do that with my other kids. I was amazed how much one could save with anticipation buying!
By purchasing items that we regularly used on sale and stocking them in a cupboard, I guaranteed that I wouldn't have to pay full price on those items when we really needed them.
CVS was the place where I could earn ExtraBucks, coupons toward cash back. I earned ECBs when I made certain purchases and also when I filled prescriptions.
New to CVS/pharmacy ExtraCare? Here are the Top 3 Ways to Save More:

1.   Enroll in the ExtraCare program to start getting savings personalized just for you, and ExtraBucks Rewards® you can spend on most things in the store.

2.   Make the ExtraCare Coupon Center your first stop every time you're in the store to snag exclusive coupons you can use right away.

3.   Personalize your ExtraCare experience: with opt-ins, you can save how you want to save. Enroll in the ExtraCare Beauty Club to save more on beauty; join ExtraCare Advantage for Diabetes to earn double rewards on diabetes needs; register for ExtraCare Pharmacy & Health Rewards to earn bigger, faster rewards on prescriptions and the other little things you do to stay healthy.
Nowadays, I don't clip many coupons much anymore, but CVS is still our go-to pharmacy for OTC and prescription meds. I scan my ExtraCare card everytime —  well, the littles love doing that, so they scan it — and we see what coupons are ready for us to use.
As a brand CVS is also embedded in our victory over debt. I feel like we're old friends.
So it's only appropriate that CVS be a part of this week's birthday celebration. CVS is offering three fun giveaways. There will be ONE winner for each prize.
Prize A
A summer's worth of Softsoap Antibacterial Liquid Hand Soap (Approx. 10)
Prize B
A pampering basket for Mom
Prize C
A CVS gift card worth $50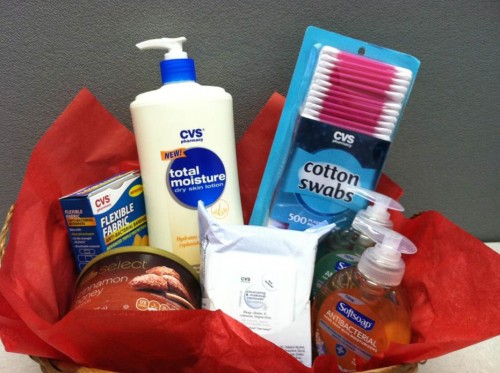 To Enter:
Simply complete the information on this form. Please know that the information is only being gathered for the purposes of mailing you your prize in the event that you are chosen as the winner. This information will not be sold, traded, or given away.
This promotion is open until Sunday, May 12, 2013, at 8 pm PST and is limited to US residents, 18 years or older. Friends and family of Jessica Fisher and Life as MOM are ineligible for entry. Please enter only once. The winner will be chosen randomly. The prize for this promotion is provided by and shipped by CVS and/or their representatives. This post will be updated with the beginning of the winner's email address. Jessica Fisher and Life as MOM will not be held responsible for unclaimed or undelivered prizes.
Dis­clo­sure: As an advertising sponsor, CVS has paid for advertising space on Life as MOM. I have received monetary compensation as well as sample product as pictured above in the basket. All opin­ions are my own.