When I was growing up it was always a big deal to head into a gift shop or stationer's store. It might have been that my little brother was like a bull in a china store, but we seemed to whisper and walk on tip toe as we looked at the different baubles and ornaments. My mom especially dared to enter during the holiday time as she would browse the Christmas ornaments and search for special pieces to add to her collection.
Nowadays, physical gift shops aren't as important as they once were. In fact, now we can shop from home without fear of our little ones playing Ferdinand amidst the delicate breakables.
DaySpring is one such virtual gift shop.
Do you know the story of DaySpring? Sure, they sell giftcards, decor, Christmas ornaments, and more. But, theirs is an interesting history:
Two pastors in Covina California , Dean Kerns and Don Leetch, started a printing press in one of their home's garage. They felt the call of God to print tracts and stickers that spread the news of Jesus Christ to the generation in the 1970's. Then in 1974, an artist, Russ Flint, and a writer, Roy Lessin, caught the vision and began developing cards for Don and Dean to market to Christian stores and DaySpring Cards was born.
DaySpring has since partnered with Hallmark, making it even easier to find Christ-centered products and gifts. They also have a great clearance section. Recently, DaySpring sent me a gift certificate to go shopping.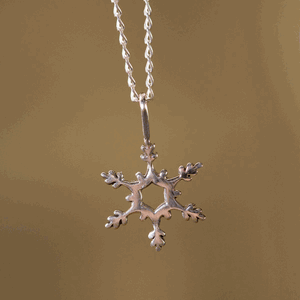 Remembering the silver tree ornaments that my mom has collected over the years, I picked out this Washed – Snowflake Remember ME Sterling Silver Necklace. I love it for its elegance and delicacy. Can't wait to add it to my Christmas wardrobe!
The DaySpring shop is filled with items to give for Christmas as well as a wide selection of Christmas wrappings and cards.
Don't forget to shop the Clearance as well.
Currently you can receive free shipping on $25+ order. Coupon code: FREESHIP25 through 01/10/2011.
This week one LifeasMOM reader will win a $50 gift certificate from DaySpring.
To Enter
Leave a comment on this post, telling us what you would choose from DaySpring.
Giveaway will be open until Sunday, November 21st at 8 pm, PST. Winner will be chosen at random and notified via email. Please respond within 48 hours in order to claim your prize.
THIS GIVEAWAY IS NOW CLOSED. Congrats to the winner, quickeasycheaphealthy@
Disclosure: I received a gift certificate from DaySpring in order to review their products. I have not been compensated to publish positive comments. Please see my disclosure policy for more information.