Find yourself washing too many cups every day? Looking for a solution? DrinkBands might be the ticket.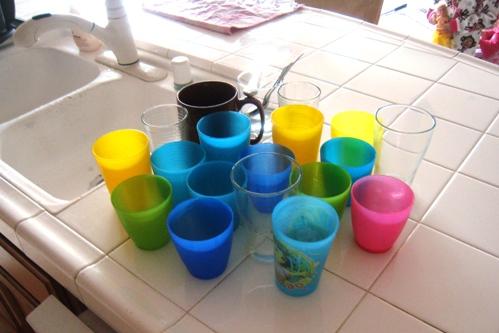 Last month, this is what I kept waking up to. Cups. Lots of them. On the counter. Used after the kitchen had been cleaned the night before.
If my math is right, there are 19 cups and glasses there. I did not stage this photo. My kids looked at me funny as I took a photo one morning, gearing myself up for a blog rant.
There are only 8 people in our family, yet 19 dirty cups were generated in the hours between dinnertime and bedtime. Consider what was happening the rest of the day! Clearly we had a drinking problem.
What a waste of resources to wash that many cups. To put away that many cups. To hassle children whose jobs were to load and unload the dishwasher.
My first response was to take away all the cups. They are currently stored on top of the fridge. Not as pretty as stashed in the cupboard, but it makes it harder to take out more cups, particularly if you're under three feet tall. My second step was to figure out a way to identify my people's cups.
In the past we had color coded cups. But, as the kids have grown, some no longer use plastic cups, others fight over who gets pink or blue or green on any given day.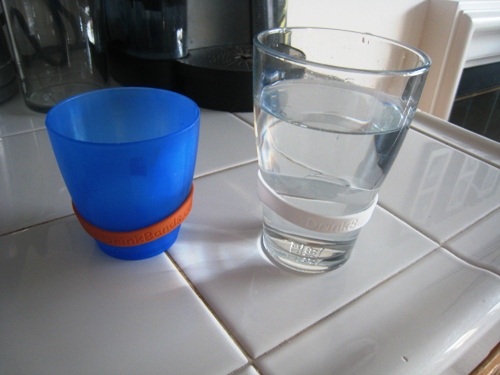 In the midst of all this plotting, I got an email from DrinkBands. Lo and behold, thick, durable rubber bands in EIGHT different colors to help us identify cups, regardless of style, size, or shape. Yeah! They sent us a set to review.
Mine's white. Don't touch it.
We've found these to be a quick and easy way to mark our family's drinkware. With eight different colors, everyone has his own special color. If you have a smaller household, your set would allow you to mark guests' glasses as well.
You can purchase a set of DrinkBands for $12.50 or get two sets for $22.50. Used regularly, you'll easily recoup that cost in the time and money that it takes to wash way too many cups! At least at our house, you would.
Use the coupon code: LAM2012 to get 10% off your order.
Win a set of drinkbands!
This week DrinkBands is giving away 5 band sets to Life as MOM readers.
To enter, fill in the form below (or go here for the live form).

Please note this information is being gathered solely for administrative purposes to send the winners their drinkbands. This information will not be given out, sold, or otherwise shared with any other sources.
This promotion is open until Sunday, February 26th, at 8 pm PST and is limited to US residents, 18 years or older. Friends and family of Jessica Fisher and Life as Mom are ineligible for entry. The winners will be chosen randomly and notified via email. Please respond within 48 hours to claim your prize. This post will be updated with the beginning of the winner's email addresses. The prize for this promotion is provided by and shipped by DrinkBands and/or its representatives. Jessica Fisher and Life as MOM will not be held responsible for unclaimed or undelivered prizes.
THIS GIVEAWAY IS NOW CLOSED. CONGRATS TO THE WINNERS: A.birch@, lrs78@, mmhaville@,  taclark10@, woodruffboys@
Disclosure: I received a review set of the bands. However, all opinions are my own. I would tell you about this resource, anyway.