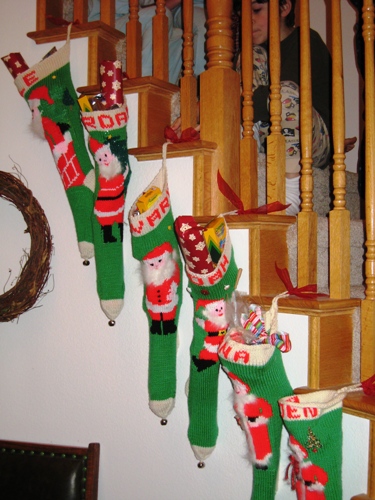 One of our holiday traditions is to fill our kids' Christmas stockings with breakfast. Not only is this an inexpensive way to fill out those big bags with edible loot, but it is also a great way to get kids to eat something healthy on Christmas morning.
In the weeks leading up to Christmas I start stashing pre-packaged snacks, crackers, bars, and drinks so that I can put good stuff in their socks on Christmas Eve. This year, I've got a little stockpile of GoGoSqueeZ to add to the mix.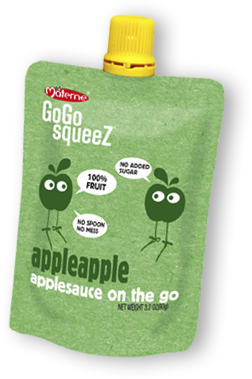 GoGoSqueeZ is pure, unsweetened applesauce in astronaut-like packaging. Each pouch contains a serving of fruit with no sugar added. It's 100% fruit. Yeah! And you don't need to worry about spoons.
I did let the FishKids try a flavor or two before I hit the rest away. And they really liked them. Really liked them. I've had to fight them off with a stick so that they don't eat the six I've carefully hoarded for Christmas morning.
Yeah, I'm a geek like that.
Anyway, this applesauce is a "go" around here. The kids love the taste and I love it that there's no junk in it. FishKid tested, FishMama approved. As they say, well, around here.
This week five LifeasMOM readers will each win a box of GoGoSqueeZ.
To Enter

Tell us your favorite thing to fill a stocking with.
Giveaway will be open until Sunday, November 21st at 8 pm, PST. Winner will be chosen at random and notified via email. Please respond within 48 hours in order to claim your prize.
THIS GIVEAWAY IS NOW CLOSED. congratulations to winners: loveadealio@, justwebster@, jennifer.pope@, vLmiller04@, quirkyjessi@
Disclosure: I received review samples of GoGoSqueeZ. I have not been compensated to publish positive comments. Please see my disclosure policy for more information.