This post is sponsored by Klondike Brands: The giveaway is now closed. Congrats to the winners: lldcandles@, rachaelamartin@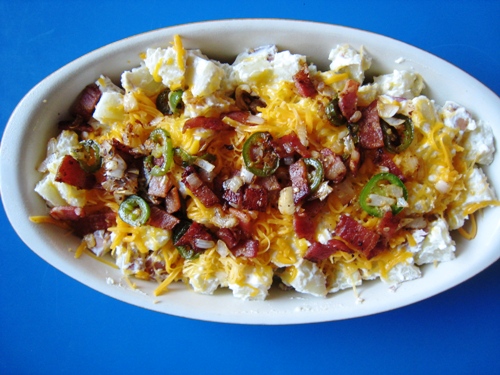 Potato, potato, how do I love thee? Let me count the ways. Jalapeno Poppers Potatoes are awesome to accompany brats and burgers on game day.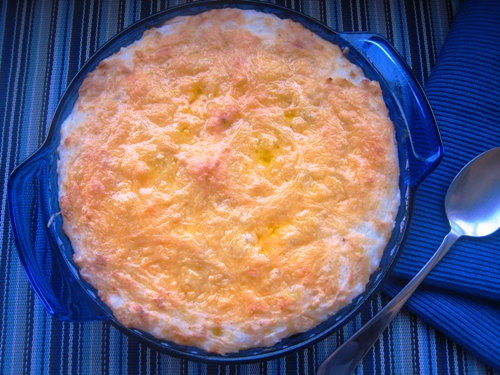 Cheddar and Leek Potato Bake is a delectable accompaniment to roast meats.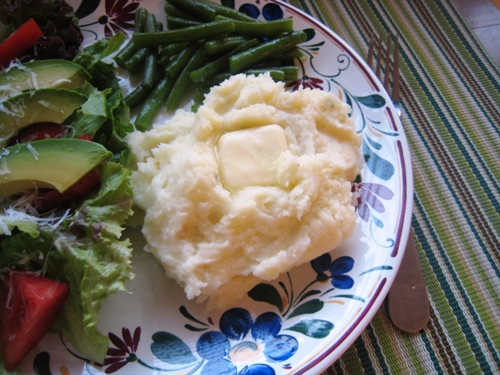 Alfredo Potatoes will go great with that Roast Chicken you make.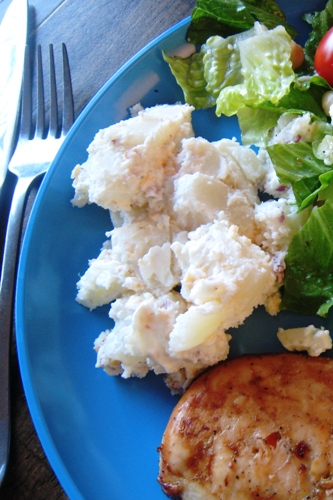 Loaded Potato Salad with Greek Yogurt, Cheddar, and Bacon makes a backyard bbq sing with flavor.
I could go on, but this post would never end. Suffice it to say that spuds are my friends.
Klondike Rose Potatoes
Recently, the folks at Klondike Brands sent me a bag of their Klondike Rose potatoes to try out. They were out of this world! Smooth and buttery on the inside with a red skin to give color on the outside. We enjoyed Smashed Potatoes one night and then I repurposed  the leftovers into Potato Leek soup the next day. So good!
Be sure to follow them on Facebook and on Twitter to hear about upcoming products and promotions.Check out their Pinterest boards for all kinds of potato goodness. They've also got coupons on their homepage occasionally.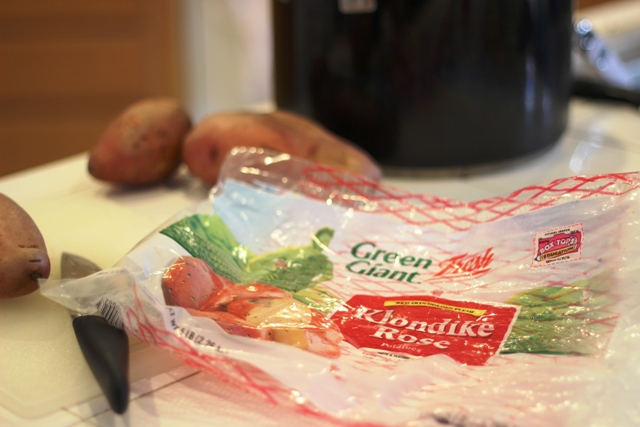 About potatoes in general
Typically potatoes don't last too long around our house. My kids will eat them however I prepare them. I usually don't make enough mashed potatoes, and folks walk away disappointed that they weren't able to gorge themselves. However, if potatoes linger at your house, be sure to store them in a cool dry place, like the pantry. Do not put them in the fridge as refrigeration will make the starch turn to sugar, changing their color and taste. Blech.
If you find a great deal on potatoes, snatch them up! I'm all about stocking up on good deals. Did you know that you can freeze potatoes? Yep, you can.
If your potatoes look a bit "off" from longer storage, fear not. It happens to the best of us. The greenish tinge on some potatoes is due to light exposure. It can be a build up of chlorophyll or of solanine, a mild toxin. It is best to avoid eating any green parts as they can be toxic, so cut that part away, same as the sprouts that might grow from an eye or two. The best potatoes for roasting or baking will be the firm ones, but don't chuck a slightly soft potato. They act as great thickeners for soup.
Win some Klondike Potatoes.
This week two Life as MOM readers will each win a prize package from Klondike Brands.
To Enter:
Simply complete the information on this form. Please know that the information is only being gathered for the purposes of mailing you your prize in the event that you are chosen as the winner. This information will not be sold, traded, or given away.
This promotion is open until Sunday, September 29, 2013 at 8 pm PST and is limited to US residents, 18 years or older. Friends and family of Jessica Fisher and Life as MOM are ineligible for entry. The winners will be chosen randomly. This post will be updated with the beginning of the winner's email address. The prize for this promotion is provided by and shipped by Klondike Brands and/or its representatives. Jessica Fisher and Life as MOM will not be held responsible for unclaimed or undelivered prizes.
Disclosure: I have received review product as well as compensation for my time spent writing. All opinions are my own.