Win gift certificates to Lilla Rose and the Modest Mom. This giveaway is now closed. Congrats to the winners: stephfishr@, lowilmac@, martinacres08@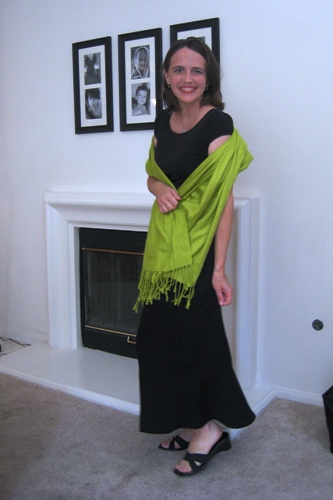 The holiday season is rife with fun and feasting. And there just might be an occasion for getting all gussied up. While I'm no fashionista, I do feel better about our outings and celebrations with friends and family if I've got the right duds.
Like this simple black skirt that I received from The Modest Mom years ago? It goes with everything, and is the perfect wardrobe staple.
Having the right clothes for the holiday season will help you feel your best — and help you be more gracious to others if you're not feeling self-conscious about what you're wearing. The same goes, of course, for whether or not you're having a bad hair day.
That's where this month's sponsor and mompreneur Caroline Allen enters the picture. Caroline is both seamstress extraordinaire at The Modest Mom as well as a consultant for Lilla Rose hair clips. Together they make the perfect package for nice dressing, anytime of year.
The Modest Mom offers a variety of well-made skirts for women (including maternity) as well as modest layering shells.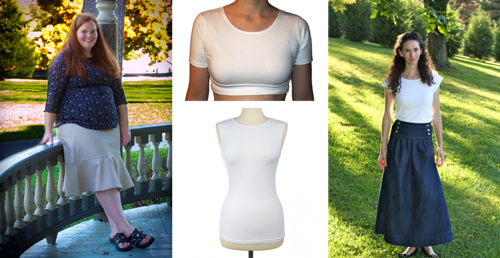 I've reviewed Lilla Rose hair clips in the past and just love them! My hair is currently too short to do them justice. Looking at them again is almost cause to grow my hair long again. They're that beautiful.
TIME SENSITIVE: For a limited time, Lilla Rose has select items on sale for 30%. This is a good and rare discount, so hop on over and check out the sale.
All these items make a great addition to your holiday wardrobe — or just any old day. There are often great sales on both, so be sure to check The Modest Mom's facebook page for updates.
Three Life as MOM readers will win a prize package from The Modest Mom this week.
The prize package includes a $20 gift certificate to The Modest Mom and a $16 gift certificate for Lilla Rose hairclips.
To Enter:
Simply complete the information on this form. Please know that the information is only being gathered for the purposes of mailing you your prize in the event that you are chosen as the winner. This information will not be sold, traded, or given away.
This promotion is open until Sunday, July 29th, at 8 pm PST and is limited to US residents, 18 years or older. Friends and family of Jessica Fisher and Life as MOM are ineligible for entry. The winner will be chosen randomly. The prize for this promotion is provided by and shipped by The Modest Mom and/or its representatives. This post will be updated with the beginning of the winner's email address. Jessica Fisher and Life as MOM will not be held responsible for unclaimed or undelivered prizes.
Disclosure: The Modest Mom is an advertising sponsor of Life as MOM. All opinions are my own.