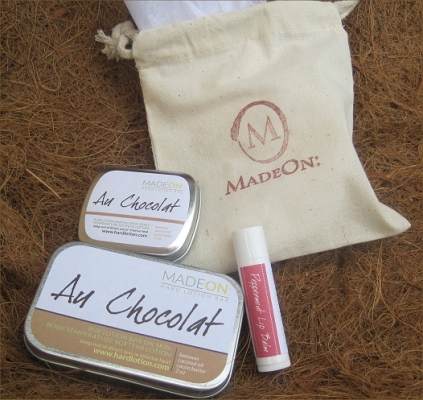 I have always struggled with dry skin. Dry, white little flakes constantly. That is, if I don't do anything about it. And I confess, I'm pretty lazy when it comes to skin care. I really don't like that sticky feeling on my hands after moisturizing.
But, as I age, I'm learning that it really does pay to moisturize and take care of your skin. So, I was really intrigued when I received some hard lotion bars from MadeOn. I wondered if using them would help me be more diligent about keeping my hands moisturized.
Some things I really like about these bars:
They come in these little tins that are cute as well as easy to transport.
They smell wonderful. Chocolate? Oh yeah!
They are made of very few ingredients, all of which I can pronounce: cocoa butter, coconut oil, and beeswax.
The bars themselves are solid, so you're not likely to find your two year old painting herself with lotion.
Small and large sizes make it easy to keep one in your purse, one on your desk, and one in the bathroom.
There's even a citronella and lavendar scented one to deter bugs. Hello, summer!
I love it that this lotion comes in bar  form because I can rub the bar on just the backs of my hands, not the palms, and avoid that sticky feeling I get from lotion. And that they are free of chemicals makes them all the more wonderful and convenient to use.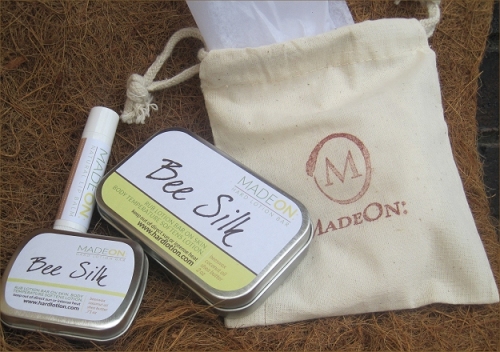 I've been really impressed with these lotion bars. They would make fabulous gifts for Mother's Day, Baby or Bridal Showers, or even Graduations. The packaging is super cute, so you would definitely feel pampered receiving a little gift bag of them.
Get 10% off
Right now, MadeOn is offering 10% off all purchases through the end of April when you use the code lifeasmom at checkout.
The shop is full of some amazing products, not only lotion bars. You can also find hair butter, rash creams, and a DIY kit for making lotions and lip balms. How fun is THAT?
Win Some
This week 2 LifeasMOM readers will win MadeOn hard lotion gift bags.
Each gift bag will include: 1 family size 2 oz lotion bar, 1 pocket .75 oz lotion bar, 1  lip balm, in large muslin tote, either BeeSilk or AuChocolat. I can't promise which one you'll get, but either one will be great!
To Enter

Share one trick you use for keeping your skin moisturized.
This giveaway is open until Sunday, May 1st at 8 pm, PST. The winners will be chosen randomly and notified via email. They will have 48 hours to respond in order to claim the prize.
This is part of the Going Green series. Join us all week for daily giveaways and inspiration for small ways to go green.
Disclosure: I received sample product as well as compensation for my time spent writing and administering this giveaway. My opinions are my own.