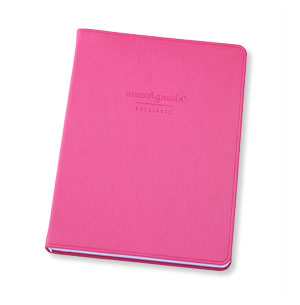 In the life of MOM, some of us are born organized and some of us really have to work at it. I am a card carrying member of the second group. But, regardless of which camp you call into, most of us need a calendar or planner of some sort to help us remember all the things we need to do.
As school gets back in swing, now is a perfect time to get dates, people, and places a little more organized.
momAgenda is a planner designed by a mom for moms. I received one for review and I'm quite impressed with these special features:
The textured cover is stain-resistant. I'm thinking it could even stand up to this rocking African Blend I've been drinking.
Its binding is high quality, like a good book — your book. I especially like the date stamped edge so that you can keep these from year to year and refer back to what y'all did. They would look great all lined up on a shelf.
Monthly calendars are at the front to help you keep track of the big picture.
The weekly pages have sections for Mom as well as four kids' sections and a meal planning spot.
The back of the book contains smaller calendars of each month in next year so you can keep track of dental appointments and vacations that are farther away.
There's even an removable address book in the back.
momAgenda offers a range of sassy colors.
This weekend four LifeasMOM readers will win a momAgenda Desktop planner.
Simply pop over to momAgenda and check out the selection of colors.
Leave a comment on this post, telling us what color you love.
Giveaway will be open until Sunday, August 29th, at 8 pm. PST. Winners to be chosen at random and notified via email. Please respond within 48 hours or risk forfeiting your prize.
THIS GIVEAWAY IS NOW CLOSED. Winners have been announced.
Disclosure: I received a complementary momAgenda Desktop planner for review. I was not compensated to publish positive comments. My opinions are my own. Please see my disclosure policy for more information.