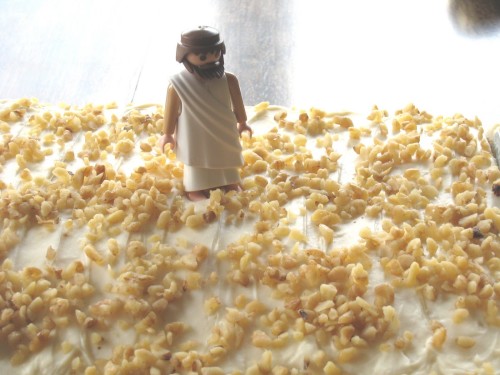 A Jesus Cake from Easter Past
The kids and I came up with a great creative Easter cake idea this past week. And, no, it's not bunnies and chicks. It's Easter as in Resurrection-Sunday-kind-of-Easter. We're trolling the Playmobil collection this weekend in the hopes of finding all the necessary components. I hope to share our Jesus-inspired cake in the next week, hopefully in time for you to make one of your own for Easter should you so desire.
And even though I'm really big on baking from scratch, when it comes to cakes, I generally cheat. Yes, I looove boxed cake mixes. Go ahead and judge me. So, when I heard about the latest sale at Safeway stores, I was particularly stoked. (That's 1980's CA talk for "really happy.") When you buy 4 Betty Crocker cake mixes, you get them for $0.69 each. And since I have a mess of cake-making occasions coming up, I don't mind stockpiling.
Betty Crocker has put together a baking site, called BakeSweetMemories.com. There are all sorts of ideas for Spring and Easter fun with the kids as well as coupon offers that download right to your Safeway Club card via Cellfire. It's the first time I've tried digital coupons, but with a sale this good, how could I not?
This weekend, Betty Crocker and Safeway have put together a great giveaway for one LifeasMOM reader. The Baking basket they've provided includes a silicon baking pan, stainless steel mixing bowl, oven mitt, Betty Crocker mixing spoon, and a $25 Safeway gift card.
To enter, tell us your favorite baking memory. Leave it in the comment section below along with your email address so that I can contact you if you are the winner. Contest will be open until Sunday night at 8 pm PST. Winner to be chosen at random.
Hope you win!
Congratulations to Mari who was chosen at random. Thanks for playing, everyone!
Disclosure: I was given a Betty Crocker product coupon and a basket like the one described above by Safeway and Betty Crocker through MyBlogSpark. My opinions are my own.