This week on LifeasMOM is all about Loving Life — finding ways to help each of us enjoy life a little more. And one way to enjoy life more is to stay well.
No brainer, eh? Anybody who's been ill in the last month or two knows that sickness can just sap your strength and all the joy out of life.
I've had friends battling the flu recently, and my heart goes out to them as I recall that feeling of "death warmed over." Last month our entire family was down for an entire week with the Headcold of the Century. While it was "just a cold," I was amazed at how terribly bad we all felt.
Suffice it to say, being sick stinks.
One way to combat illness is with good hand washing.
Softsoap brand has teamed up with the American Public Health Association (APHA) to create unique "Get Ready" hand washing timers that easily attach directly to Softsoap brand soap pumps. When pressed, the timers play a fun song to help children stay engaged for a full 20 seconds to properly wash away germs. Pair these fun hand washing timers with the Softsoap Foam Works Spongebob and Dora the Explorer Hand Soaps, and children are sure to be excited to spend at least 20 seconds washing their hands!
The timers are actually pretty amazing.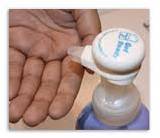 However, my girls loved theirs so much, that they swiped the timer off the bottle of soap and started playing it all over the house. So, please set some ground rules about the use of the timer or you might just go batty.
This week 5 LifeasMOM readers (sorry, US only) will win a bottle of Softsoap and a handy-dandy timer.
Simply leave a comment on this post, sharing one of your tricks for preventing or treating colds and flu.
Comments will be accepted until 8 pm, PST on Sunday, February 13. Winner will notified via email and has 48 hours to respond in order to claim the prize.

This giveaway is now closed. Congrats to winners:
jmcwethy@
thedollarholleringhomemaker@
aott27@
smontemorra@
jenmason84@
Disclosure: I received Softsoap and timers for review purposes.
This week is all about Loving Life. Check out the wealth of ideas for making the most of every minute.