Gravity has finally caught up with me. My six year old son pointed to my belly the other day and asked if there was a baby in there.
No, son, I'm just fat.
His brothers were appalled. Apparently, I've instilled in them a sense of politesse when it comes to discussing someone's weight and the spare tire she's sporting around her waist.
But, I wasn't mad. He was just being honest. Gravity has caught up with me. I'm sure that's what it is.
I'm also sure that it could be a little overindulgence and a lack of exercise. So a few weeks ago, I started back on the exercise bike and for the whole week that I did it, I did feel a difference. I felt better, mentally and physically. And for some magical reason, I was a lot more productive during the day.
Go figure.
I'd heard about Subways's Commit to Fit program from my friend Erin. She runs regularly — and is all buff — and can do marathons and things. So, when Subway offered me a "Commit to Fit" kit and one for you, too, I figured why not? We can both stand to get a little more fit, can we not?
My six year old says so.
Next Tuesday at 8pm, EST, Mamavation is also hosting a Subway twitter party to talk about all things fitness. Just follow the hashtag #commit2fit to participate.
And this weekend, you can win a little fitness love.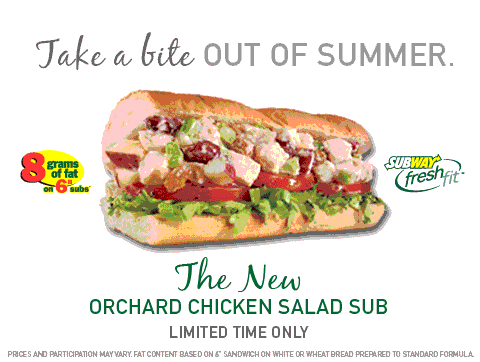 One LifeasMOM reader will receive a Commit to Fit kit which includes:
$10 SUBWAY card to try May's featured sandwich, the Orchard Chicken Salad
Biggest Loser trainer, Jillian Michaels' new fitness DVD Ripped in 30
$25 Champs gift card
To Enter:

Leave a comment about what you're doing to get more fit.
This giveaway is open until Sunday, May 8th at 8 pm PST. Winner will be chosen at random and notified via email. Please respond within 48 hours to claim your prize. THIS GIVEAWAY IS NOW CLOSED. CONGRATS TO THE WINNER: jenlynnthomas@
Disclosure: I received sample product. I was not compensated to publish positive statements. All opinions are my own.