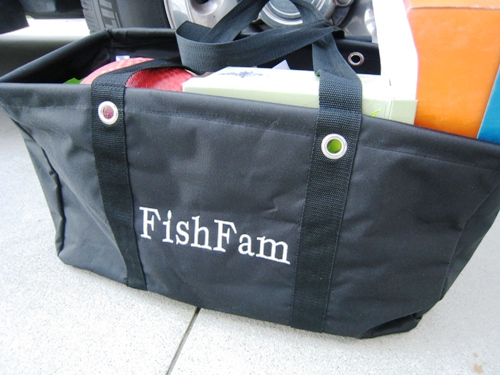 This week on LifeasMOM is all about Loving Life — finding ways to help each of us enjoy life a little more. And one way to enjoy life more is to be prepared for any adventure.
Last year, after months of talking about it, I put together adventure bags that contain the different things we might need for an outing. Since we live in San Diego, there are lots of local things for us to see or do. But, I found myself frustrated that we didn't have picnic gear or golly, I wish we had a …fill in the blank… right now.
While I wasn't totally on top of keeping the bags organized all year, they did come in handy and I had one or two Boy Scout Moments when I was actually prepared. How cool was it to be on our fall vacation at the beach and to be able to pull a kite out of my bag of tricks.
Recently, reader and mompreneur Carrie Heard contacted me about her company, Thirty-One Gifts, and this bag she wanted me to try. She said, "I know you are going to wonder how you ever lived with out it."
Well, Carrie, I must admit I was skeptical. But, now I am a believer! Oh my! This bag is amazing. It folds almost as flat as the state of Kansas for easy storage. But, then, it holds so dang much!
Truly, I was stunned when we took it to the park the first time. We had beach towels to dry off the wet equipment, disc golf discs, water bottles, snacks, a sundry of playday items — and it all fit.
Yesterday we used it to cart balls and snacks and boxes of Valentines to our homeschool park day. And I spied several similar bags amongst the other moms, so clearly others have caught on to the beauty of bags made by Thirty-One Gifts.
One  of the fun things is that you can customize your bag to fit you and your style. I really wanted to know that my husband and teenage son would have no qualms about carrying it about — that sucker is big. So, I chose a simple black fabric with white writing.
But, my friend Jen is a little more hip that I. See how fancy she made hers: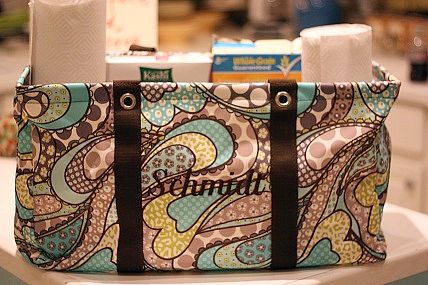 This weekend one LifeasMOM reader will win a $50 credit to Thirty-One Gifts, compliments of Carrie.

To enter, simply bop over to Carrie's site and pick something that you might buy if you won.
Please note that the $50 credit is only valid at Carrie's store.
(Jen is also hosting a Thirty-One gifts giveaway so hop over there and enter that giveaway for another chance to win.)
Comments will be accepted until 8 pm, PST on Sunday, February 13. Winner will notified via email and has 48 hours to respond in order to claim the prize.
CONGRATS TO THE WINNER: tsuzanne@
Disclosure: I received a Thirty-One Gifts tote bag for review purposes.
This week is all about Loving Life. Check out the wealth of ideas for making the most of every minute.