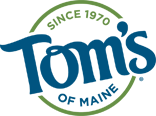 While I'm pretty flexible about what brands I buy and use for most household products, there are some items that I am naturally drawn to. Tom's of Maine products are among those that I like for a number of reasons. Their deodorant is one of the I've found not to have aluminum, their toothpaste doesn't make me gag, and I know that their practice good stewardship in their production.
I always had terrible gagging issues during pregnancy. Most toothpastes made me feel ill. Except Tom's. It's a top choice in my book simply due to taste.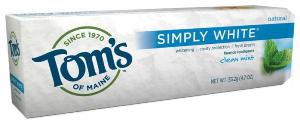 Tom's of Maine just released a new tooth paste: Simply White. Like the others in the line, it tastes great and, additionally, uses naturally sourced silica to help whiten. Hubs and I have both been using it recently. He, who normally doesn't have a toothpaste preference said, "I really like that stuff." Four thumbs up here!
The kids have been testing out the Silly Strawberry Toothpaste. My 8-year old commented that the flavor isn't super strong. I think this is a good thing, personally. He seemed to think that it should be just like eating strawberries. Kids these days!
Another new addition to my morning routine is Tom's Natural Beauty Bar. Without synthetic ingredients and full of vitamin E and olive oil, they can be considered wholesome. I like how my face feels after washing up.
This week three LifeasMOM readers will win gifts from Tom's of Maine: a sample of Simply White toothpaste, 2 beauty bars and a sample of Silly Strawberry toothpaste.
To Enter:

Simply leave a comment on this post.
This giveaway is open until Sunday, May 1st at 8 pm, PST. The winners will be chosen randomly and notified via email. They will have 48 hours to respond in order to claim the prize.
This is part of the Going Green series. Join us all week for daily giveaways and inspiration for small ways to go green.