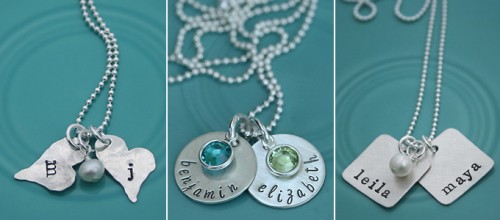 I'm a simple girl. Especially when it comes to fashion. Spanx? No thanks!
I wear no makeup. I rarely blow dry my hair. And I have a wardrobe that consists of about five colors. And I'm good with that.
And while I don't do a lot of accessories, I do enjoy simple earrings and necklaces. And I love hand stamped silver jewelry!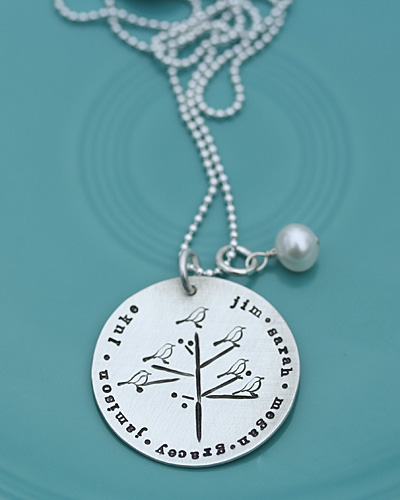 The Vintage Pearl seems to have it all! With hand stamped sterling silver discs and shapes and elegant jems and pearls, The Vintage Pearl strikes a balance between beauty and simplicity. And I love the way they've found to put many kids on a necklace!
Mother's necklaces can be beautiful if you have two kids. But,with six? Well you look like a female version of Mr. T. No thank you.
But, look at this? Is this not adorable? I love The Family Nest necklace from The Vintage Pearl. I could stick all my kids names on there and still dress simply and elegantly!
Check out the selection at TVP if you're in the mood for gift shopping — or finding something to tell your hubby about. (hint hint) And don't forget to visit TVP's blog for the latest and greatest.
This week one LifeasMOM reader will win a $75 shopping spree at The Vintage Pearl.
To Enter:
There are several ways to enter. Choose any or all.
1. Leave a comment on this post, telling us what YOU would pick from The Vintage Pearl.
2. Subscribe to The Vintage Pearl blog by email or in a feed reader. Once you've confirmed your subscription, leave another comment, telling me you've done so.
3. Follow @thevintagepearl and @FishMama on Twitter and tweet the following: Enter a great giveaway from @FishMama and @thevintagepearl: http://wp.me/pLlgS-2X3. Then leave another comment telling me you've done so.
Giveaway will be open until Sunday, November 14, at 8 pm, PST. Winner will be chosen randomly and contacted via email. Please respond within 48 hours to claim your prize.
Congratulations to blessed1indeed@!