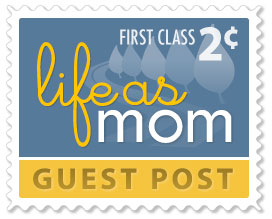 The following is a guest post from Devon:
Freezer cooking is such an appealing concept; cook once a week and have your dinners ready to go for the next seven days. In practice, however, stocking the freezer can be difficult depending on your season of life.
Dedicating an entire day each week to planning, shopping, prepping, and cooking can be exhausting. And it can also take away from precious weekends and family time. The overall effect is that many moms who begin a regimen of traditional freezer cooking realize quickly that it's simply not feasible on a regular basis.
Swap Freezer Meals
The solution? Try a make-ahead swap! With a make-ahead meal swap, you can make freezer cooking an efficient and effective way of providing healthy, home-cooked meals to your family.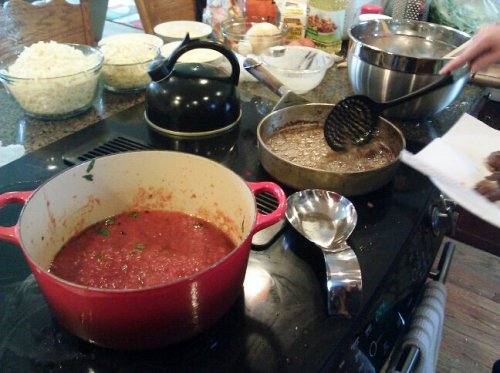 Here's how it works:
Enlist other moms to be a part of your make-ahead group. You can create an informal group of moms you already know, or use networking sites such as Meet Up to find like-minded parents to join you.
Have each mom choose a make-ahead (freezer) meal to prepare for the group. Choosing a recipe is simple. Many group members will already have meals they'd like to share; others can easily find recipes by searching the internet, or investing in a make-ahead cook book.
Set a swap date and time. You can have swaps once a week, once a month, or simply whenever everyone can fit it into their schedules.
Prepare your meal, in quantities large enough to give each group member (including yourself) a family-sized portion. Say there are eight moms in your group, and you're making Apple Cranberry Pork Roast. One batch of the recipe makes a 9 x 13 baking dish full of lasagne; for the swap, you'll fill eight 9 x 13 baking dishes (or more likely, disposable tins) with lasagne!
Swap! Choose a date and time to meet, and swap meals! Give each group member one dish of lasagne. Mom 1 will give you one batch of her meal; Mom 2 will give you a batch; etc., until you have eight different meals to take home. Voila, the freezer is stocked!
Endless Benefits
One of the biggest benefits of the make-ahead swap is the time it saves; rather than spending all day cooking seven meals, you'll spend just a few hours preparing a large batch of one meal. However, the benefits don't end there.
First, a swap is a great opportunity to be social with other moms.
Next, your family will get to try meals you never would have thought to cook yourself. (For example, at a recent get-together for our group, one of Indian moms prepared Red Lentil Soup for everyone – it was delicious, and I never would have thought to make it on my own!)
Finally, because you're cooking in bulk, make-ahead meal swaps save money; you can purchase in bulk, and also minimize leftover ingredients and food waste by cooking large batches.
Freezer cooking really can be an efficient and cost-effective way of preparing healthy meals for your family – and fun, with a little help from your friends!
— Devon Thurtle Anderson is the author of the Eastside Make-Ahead Mamas and founder of the Eastside Make-Ahead Mamas. The Mamas get together monthly to prepare healthy, make-ahead meals for their families in "swap" fashion. Devon works full-time outside the home, and spends her free time cooking, blogging, and tweeting (@MamasMakeAhead) about all things make-ahead.

Curious about freezer cooking? Consider purchasing my cookbook, Not Your Mother's Make-Ahead and Freeze Cookbook from Amazon, Barnes and Noble, or your local bookstore. It's chock full with over 200 freezer-friendly recipes, planning pages, shopping lists, cooking plans, and basic and advanced how-to's to making freezer cooking work for any home, family, and lifestyle.