THIS GIVEAWAY IS NOW CLOSED. CONGRATS TO THE WINNER, susanbillietaylor@.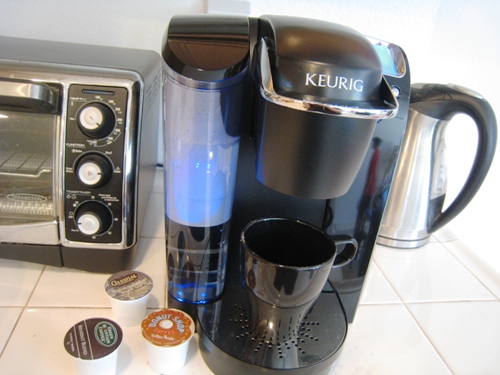 As you know we are coffee lovers around here. It's a daily morning beverage for hubs and me. And our teenager enjoys a cup of java in the morning as well.
However, lifelong coffee drinkers that we are, we've never used a coffee maker on a regular basis. Instead we use this type of cone filter that sits on your mug. I had one when I lived in France. And the one that we currently own "has been in the family" for 15 years. Hubs is quite proud of its longevity. He uses a gold filter inside it and is quite content.
I, on the other hand, am always game to try something new. Recently, we were sent a Keurig brewer to review. And while it takes up some countertop real estate it's been so fun to use!
The Keurig® Platinum Brewer key features:

Brews coffee, tea, hot cocoa, and iced beverages
Removable 60 oz. water reservoir makes up to 10 cups before refilling
Brews 5 different cup sizes.
Brews in under a minute
Includes K-Cup® variety pack
The kids have enjoyed making their own hot cocoa with the push of a button. And I've appreciated the ease and "no-brainer-ness" of making my morning coffee this way. Hubs mocks my laziness, but even he confessed that at night when he wants decaf, he appreciated just pushing a button.
I asked readers on my Facebook page what they thought of the machine. Most people were enthusiastic about the brewer. Here are some of the pro's and con's I either heard or experienced:
Pro's
quick and easy to use
less coffee wasted since you can make one cup at a time
coffee is hot when you want it instead of having to drink from an old pot of coffee
Con's
limited flavors/brands of coffee
not as environmentally friendly as other methods
cups can be expensive
machine is expensive
It's important to note that you can buy a reusable filter to use in place of K-cups. I bought the filter and have been brewing my favorite coffee this way. That knocks out Con's #1, 2, and 3. But the machine is not cheap. I definitely understand that "con."
But, you can win one this weekend!
Simply leave a comment telling us why you want to win.
This giveaway will be open until Sunday, 7/3/11, at 8pm PST. The winner will be selected randomly and notified by email, and this post will be updated with the winner's name as well. Please respond within 48 hours to claim your prize.
CONGRATS TO THE WINNER, susanbillietaylor@
Disclosure: I received a Keurig Brewer for review purposes. All opinions are my own.