A Peek into My Week: Ladies Night Out
We are a participant in the Amazon Services LLC Associates Program, an affiliate advertising program designed to provide a means for us to earn fees by linking to Amazon.com and affiliated sites. We participate in other affiliate programs as well. For more details, please see our disclosure policy.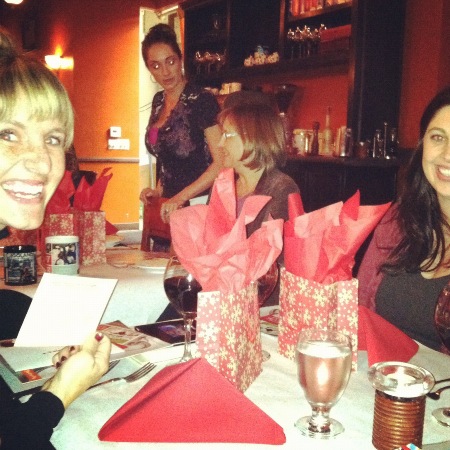 I don't do much in the way of Ladies' Night Out. There's too much going on here at the ranch on a regular basis. But, when I get the chance to go hang with girl friends, it's so much fun!
Slowly, but surely, I'm meeting other bloggers who live in the general vicinity which makes things fun, too. URL becomes IRL. I love that.
Back in September Nicole and I hosted a coffee meet-up. That was a really refreshing time. This week I had the chance to host a dinner, courtesy of Shutterfly.
It was such a blast to put faces to names of ladies I hadn't met but knew online, like Andrea, Jules, Kathy, Kate, and Krissa as well as reunite with those I had met before, like Cathy, Melanie, Michelle, Nicole, Rena, and Sarah. So much fun! These ladies are great.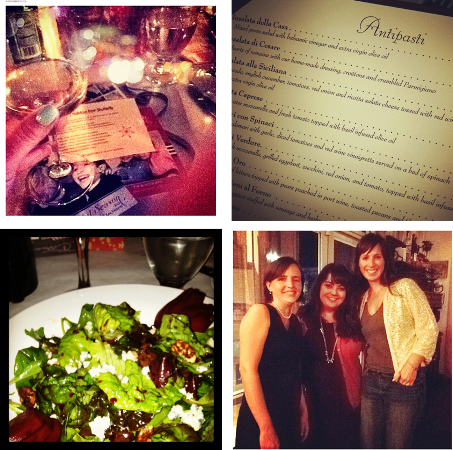 photo credits: upper left Andrea, lower right Sarah
The goals of the evening were, of course, to eat well, make new friends, and share our #cardworthy experiences.
Dinner, at Rosina's of Oceanside, was amazing. This is a little gem that my hubby discovered on the Google. We've gone here for a few date nights and really enjoyed the authentic Italian fare. Rosina does a nice job adding a personal touch. It was fun to share our little secret with friends.
As for the friendy stuff, I love learning little tidbits about people. I put everyone on the spot and made them share something interesting. Someone is hosting a Swedish hockey player. Another has a birthmark in the shape of the state of California. Several had adopted babies or are contemplating more. Who knew?
We discussed everything under the sun from sex ed, bad animated movies, life goals, adoption, cookbooks, the whole nine yards.
And of course the Instagrams were flying! Because if you don't instagram it, it didn't really happen, right?
I asked everyone to bring the Shutterfly stuff that they had created over the years. Lots of cute brag books and holiday greeting cards got passed around.
What creative gifts and memories you can capture with their online services! I told you a few weeks ago about Shutterfly's Family Photo Site. (By the way, congrats to bennett81252@ for winning that giveaway!)
The choice of Shutterfly cards is really limitless. Some ladies had already received holiday greetings in the mail from friends. Fun! And as instagram was a theme of the evening, we discussed which card designs were most instagram-friendly.
Several of my friends are going to be hosting Shutterfly giveaways in the next few days. Hop over to these sites to enter for your chance to win:
(I'll update this post as  more giveaways go live.)
I'm definitely not that much on the ball to get Christmas cards out already. But, I did have fun making scrapbooks for my girls' Christmas presents as well as some cool photo mugs. I brought those to show off. Even our waitress got into the discussion, wanting to know where to get a mug like that. Funny that you should ask, Pamela….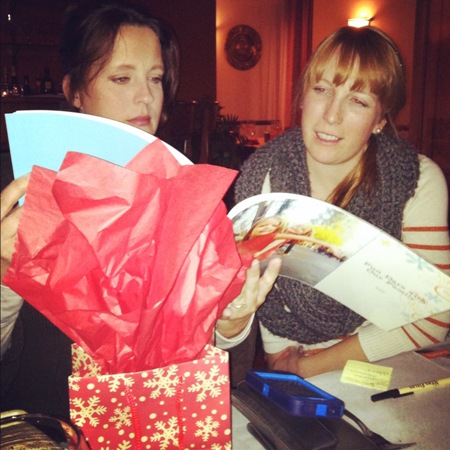 I am thrilled with the books I made for the girls. They don't have baby books yet, but they will at least have a snapshot of 2012.
Overall, it was a great night. I'm looking forward to seeing these ladies again. I think I need a ladies' night out next week.
How 'bout you?
Do you have a regular night out with the girls?
Disclosure: I am part of the Mom It Forward blogger network. Mom It Forward and Shutterfly partnered in support of this campaign. Shutterfly compensated me for participation in this campaign. However, all thoughts and opinions are my own.