Are you dreaming of a perfect birth story? Pregnancy, labor, and delivery don't always go according to our wishes, but it can still be perfect.
The following is written by JessieLeigh from Parenting Miracles. It was originally published on October 5, 2011: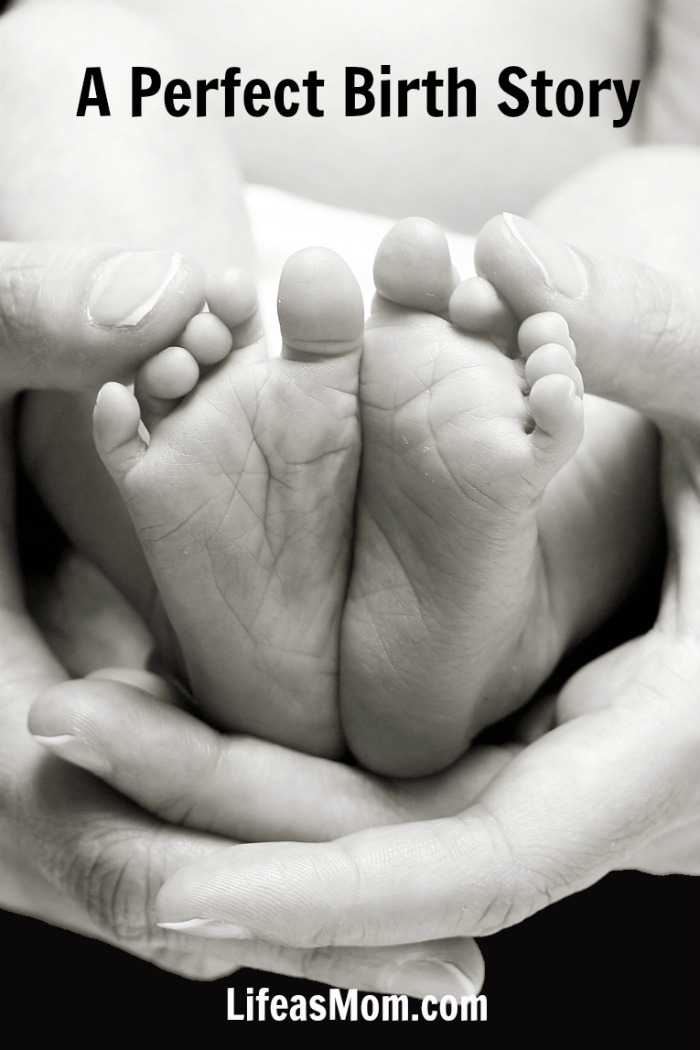 I want to tell you my perfect birth story. It is my hope that you'll find it compelling and amazing and inspiring. I hope it will encourage you. I hope it will open your eyes to incredible possibilities.
There are a few things you should probably know about my story… things that might make you scoff and deem it "imperfect" right from the start. But I would sure appreciate it if you'd bear with me for a few moments.
This story is about my second child.
It was not a natural birth. I had drugs. Plenty of them.
It was not a home birth. I wasn't even within an hour of my home. There was no midwife or doula involved. Rather than being my steadfast coach throughout labor, my husband almost missed it.
There was no peaceful music, no gentle meditations. There was no careful breathing or clasped hands.
I had a c-section– didn't even attempt a "regular" birth. I did not hold my daughter right away. She wasn't placed on my chest. She didn't latch on and nurse and bond. In fact, she would never truly breastfeed.
We didn't room together. Aside from a brief glance in the recovery room and a gentle touch with one finger, I had no contact at all with my little girl for hours and hours. They stuck her endless times and probably gave her sugar water… I don't even know. I wasn't there.

By most standards, it's an ugly tale full of poor choices. There's not a "birth plan" you'll find that reads the way that birth went down.
But it was perfect. And exactly as it needed to be.
You see, I gave birth to my second baby when I was less than twenty-four weeks pregnant. I had gained four pounds. I was not yet in maternity clothes. I was not ready to have that baby.
But she was coming, ready or not. And, with a team of devoted and dedicated doctors, we made a series of decisions to give her her very best shot.
Born at a mere 1 lb 5 oz, in the wee hours of Christmas Eve, she actually cried, something so unusual and stunning that a team of sixteen medical professionals went absolutely silent in awe.
She is five now. Whip-slim, but healthy as can be. She's feisty and determined. She runs, plays, and laughs wild belly laughs that are incredibly contagious.
And so it's hard, for me, when I hear disparaging remarks about "birth stories." I'm not sure who decided that you can't get the blue ribbon if you don't achieve certain standards in labor and delivery. My happy, natural, "meets-people's-approval" first birth was certainly no more or less triumphant than the messy, scary process that brought my precious preemie into the world.
It's my story. And it's her story.
And, no matter what anyone says, it is a perfect birth story.
It's your turn. Please tell me–what's YOUR perfect birth story?

— JessieLeigh is the mother of a former 24-week micropreemie and two full-term blessings as well. She is a determined advocate for the tiniest of babies, including the unborn, and a firm believer in faith and miracles. She shares about raising such a precious, tiny baby over at Parenting the Tiniest of Miracles.