Plan a tea party with your little girl. We used The Pirate Fairy as our inspiration.
Disclosure: This is not a sponsored post, but I did receive a free copy of the movie.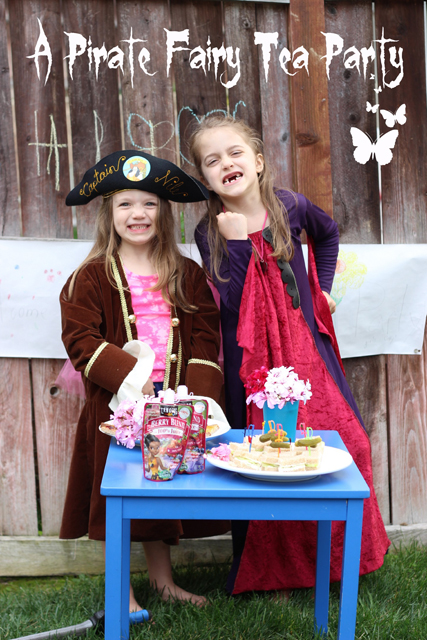 Have you ever had a tea party with your kids, just because? I've done it a few times with boys and girls alike.
I'm not sure the boys called it a tea party; I think it was just tea. Anyway, each time we've done it, I'm surprised anew at the enthusiasm the kids put behind it. There's something special about having a "party" with fun drinks and yummy treats. Just because.
This past weekend I told the girls we'd have a Pirate Fairy Tea Party. They'd seen the movie we were sent to review and were thrilled with the idea of a themed tea party. I thought it would be a fun way to wind up spring break, aka the week that did not behave. It was just a "family party"; we didn't invite anyone over, but that doesn't mean FishChick7 didn't put some effort into her plans. Oh my!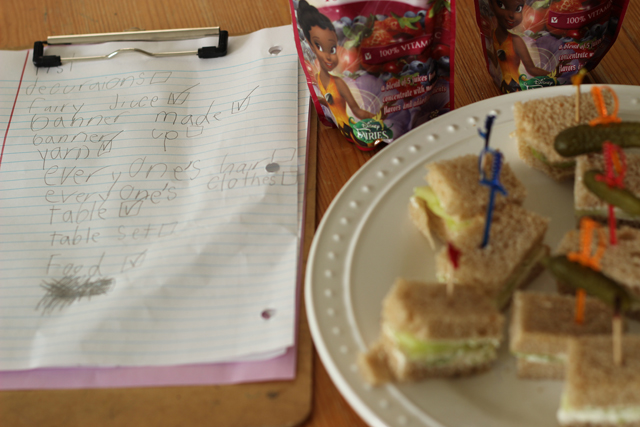 Check out her to-do list. The girl made a banner, planned out clothes and hair, arranged flowers, and the whole shebang. They both had a great time making the food with me.
Honestly, mamas, this was so easy, but you would not believe how over the moon thrilled they were. It's obviously the little things.
We tried baking a honey-sweetened carrot cake, and it was all good to go. EXCEPT the cookbook author-mother in this scenario turned on the broiler instead of the oven. Ahem. The cake went into the trash. But the rest of the food was great.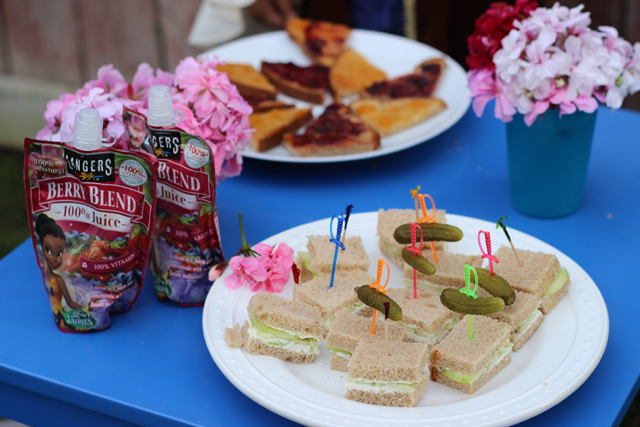 I don't normally buy packaged juices, but these fairies juice pouches were being discontinued at Ralphs, so I bought them for the girls. We made cucumber sandwiches with Green Onion Cream Cheese. I had both frilly toothpicks and sword toothpicks.
Everyone knows a toothpick makes the sandwich better. Cornichons (baby pickles) do, too.
Instead of cake, we had toast with jam.
The entire tea party was simple and easy. And the girls had as much planning and preparing as they did eating and playing.
My girls have been Tinker Bell fans for quite some time, even since before they met her in real life! We've watched all the Disney Fairy movies that have been out in recent years. (I loved The Secret of the Wings.)
We dug out dress-up clothes, including the dress-up fairy wings that Nanna made last summer.
The newest film is called The Pirate Fairy. We received a review copy a couple weeks ago. The boys were intrigued because their favorite bad guy Loki (aka Tom Hiddleston) plays the cabin boy James Hook. Loki even sings!
Pretty cool, eh? I confess, I love Loki, too. You'll have to catch the movie to find out Captain James Hook's back story. There's even a crocodile and a watch involved.
For the record the boys who watched were disappointed that the other pirates didn't demonstrate a little more intelligence. 😉
For the last part of the party bit, I printed out these coloring pages. Oh my! The girls were very into it, particularly FishChick5, naming all the fairies and coloring rather intently for hours. She even held an art show when she was done!
Whether you're hosting a playdate, having a party-party, or just making a sweet memory with your kids, a tea party is a great way to go.
Do YOU have tea parties at your house?
Disclosure: This is not a sponsored post, but I did receive a free copy of the movie.