A Review of Austenland (Booking It – September Update)
As an Amazon Associate I earn from qualifying purchases. For more details, please see our disclosure policy.
Please know that this post does include Amazon affiliate links. If you make a purchase through those links, I am paid a small amount in way of advertising fees.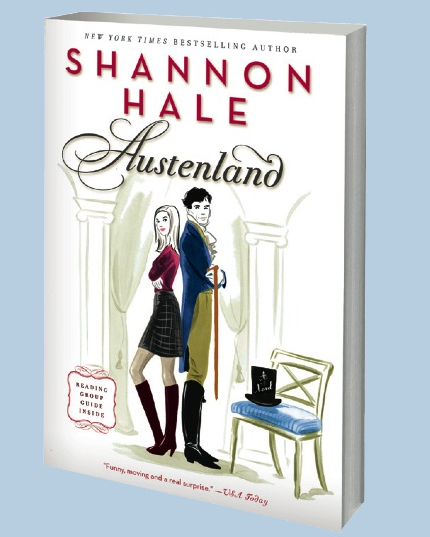 This month for Booking It, we decided to do something a little different. We all three read the same book and are giving three perspectives on the novel, Austenland by Shannon Hale. It started out with Carrie sending out the link to the trailer of the movie version, and then Anne sharing her not-too-positive opinion of the book.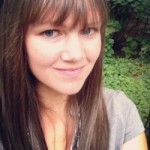 Anne Says:
Trust me on this one: when you write a blog called Modern Mrs Darcy, you get a lot of Austen-ish book recommendations in your inbox. After the fifth person emailed me gushing about Austenland–long before any talk of a movie version–I decided to give it a try.
It's quite possible I was a victim of my own inflated expectations, but I found the book really disappointing. It's fluffy chick lit, and while I think there's definitely a place for that on my bookshelf, life's too short for mediocre books, and this is one of them.
It did have some redemptive moments (I especially love the way Hale gently pokes fun at Colin Firth's devotees), but if I had it to do over again I'd skip the book and get my three hours back.
Despite all this, I'll still see the movie. I'm a Keri Russell fan, and judging from the trailer, it looks like they've dramatically altered the plot (which is actually a plus for me this time). (Fun fact: Russell was six months pregnant during shooting. Thank goodness for those empire waist lines!)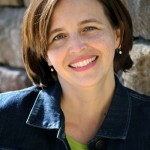 Jessica Says:
I read the book, I suppose because Carrie sent me the link to the trailer and Anne said she hated the book. She declared this rather vehemently, I might add. So, I guess I felt like I had been dared to like it. Ha!
And I did! Ha! I checked it out from the library and proceeded to devour it in a Saturday. I couldn't even read it on the Kindle, so that says something. It wasn't like I was trapped on the treadmill at the gym and needed something to divert my attention from absolute boredom. Instead, I sat trapped in my chair, wanting to know how the book ended.
I really enjoyed it and was pleased with how it ended. If I found myself in the place of Jane Hayes, would I ever go to a Regency-era immersion experience? I doubt it. But, I enjoyed living it vicariously. Because I'm a dork like that.
Now, at first glance, I liked the trailer and thought I'd go see it. But, after reading the book and rewatching the trailer, I'm having second thoughts. It had a limited release in mid-August and doesn't appear to be coming to any San Diego theaters near me, so I'll have to wait for the Redbox or Amazon Prime. But, it does look like it will be hilarious with a large dose of cheese.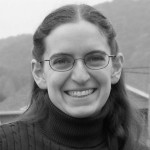 Carrie Says:
I picked up a copy of Austenland after both Anne and Jessica read it and required a third-party tie-breaker. Based on our rather eclectic book tastes, I wasn't sure what to expect, but being a fan of Austen (though not of Austen fan-lit), I decided to give it a chance. Starting with the assumption that I might not like it, I was pleasantly surprised to find it quite enjoyable.
I wasn't looking for great literature (this would not qualify), but it required very little brain power – perfect after a long work week – and I read it in an afternoon. The plot, while not outstanding or overly full of surprises, was cute. I appreciated the twist of the gardener (didn't see that coming), and the idea of dressing in costume, ditching technology, and experiencing life in an era, now long gone, is an interesting one; albeit, not one that I will be signing up for anytime soon!
Do I plan to watch the film? I might consider spending $1 on it when it comes to Redbox. Would I recommend the book? Well, if you're looking for light fiction with an Austen touch, some humor, and a happy ending, Austenland absolutely does the trick.
In case you haven't seen the trailer yet, you can check it out here.
What did YOU read this month?
– Anne loves strong coffee, long books, and big ideas. She puts a timely spin on timeless women's issues at her blog Modern Mrs Darcy.
– Carrie adores culture, coffee, books, British mystery shows, and her husband of 13 years. She's spent time in Africa, southeast Asia, and Alaska, and now works from home as a social media book launch project manager. In her spare time, you can find her blogging at Carrie's Busy Nothings and What's On My Nightstand.
– Jessica is a married mom of six kids, aged 4 to 15. Most can read independently which means the homeschool experiment is working – at least on the literacy front. She has been a lover of books for 39 years and counting. We won't count the first year of life. She runs this here show called Life as MOM.
Tell us what YOU'VE been reading.
Leave a comment or a link below. Please be sure to link back here so your readers know where to find the party. Share your recent book reviews with us!