Big Idea has done it again, putting  a new spin on the classic Robin Hood legend. Win a copy of Robin Good and His Not-So-Merry Men this week.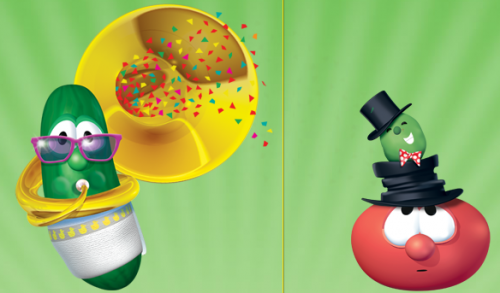 When we first married, we didn't own a tv. We mooched off our landlords who lived next door. When we had our first child, we didn't own a tv. We just lived without it. But, somewhere after the birth of our second child and a move to the boondocks where there wasn't much to do after dark, we decided that a tv might not be so bad.
Well, my mother-in-law decided to give us one. It was a small 14-inch screen with an attached video player. We had no movies to watch besides our wedding video, so Gramma Ruthie and I cruised down to the Christian book store and she bought us Lyle the Kindly Viking.
And we were hooked. Our kids have loved Bob the Tomato and Larry the Cucumber for years. And we parents agree. While the remakes of Bible stories are not my favorite, I absolutely love the poetic license Big Idea has taken with historical and pop culture icons. Minnesota Cuke, Lyle the Kindly Viking, and The Lord of the Beans appeal to this pun-loving family.
My littles (my 7 and under set) don't have all the Veggie experience that my bigger kids do; our video player has since bit the dust. But, slowly they're getting the chance to watch different Veggie Tales on DVD. Recently, we received a review copy of Robin Good and His Not-So-Merry Men.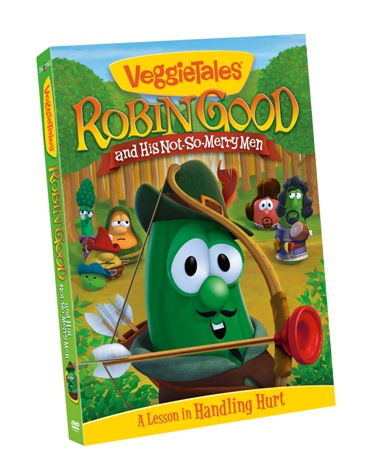 A play on the Robin Hood legend, this story talks about sadness and hurt and how NO hurt is too big for God. It's silly and fun and full of godly talking points. And it's a mus-i-cal!
I had a great time watching this video with the kiddos this weekend. My younger children listen to these lessons of kindness and really take it to heart. I'm always amazed at the conversations that are sparked after they watch one of these videos.
Win a copy of Robin Good and His Not-So-Merry Men.
Big Idea is giving away three copies of Robin Good and His Not-So-Merry Men this week.
To Enter:
Simply fill out this form with your name, mailing address, and email contact.
Please note this information is being gathered solely for administrative purposes to send the winners their DVDs. This information will not be given out, sold, or otherwise shared with any other sources.
This promotion is open until Sunday, March 11th, at 8 pm PST and is limited to US residents, 18 years or older. Friends and family of Jessica Fisher and Life as Mom are ineligible for entry. The winners will be chosen randomly and notified via email. Please respond within 48 hours to claim your prize. This post will be updated with the beginning of the winner's email addresses. The prize for this promotion is provided by and shipped by Big Idea and/or its representatives. Jessica Fisher and Life as MOM will not be held responsible for unclaimed or undelivered prizes.
Disclosure: if you make a purchase through that Amazon link up there, I do receive a small percentage of the sale. Also, I received a review copy of this DVD, however, my opinions are my own.