A Typical School Day?
As an Amazon Associate I earn from qualifying purchases. For more details, please see our disclosure policy.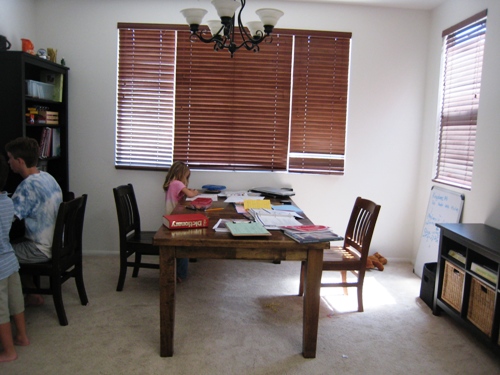 A typical day at our house is a moving target.
Once upon a time it ran like clockwork. The kids awoke, we ate breakfast, we did lessons, the baby took a nap, school was done. This was back in the days when everyone was in lower elementary grades and their assignments were similar in scope and nature.
Those days are gone.
With six children aged three to fourteen, my life is drastically different. Vastly richer, but different.
Here are some characteristics of a typical school day at our house:
A range of wake-up times
The girls are usually awake between 5 and 6:30 when FishPapa wakes and gets ready for work. They love to help him make his coffee, pack his lunch, and kiss him goodbye. FishBoy10 and FishBoy7 naturally wake up next. FishBoy9 and FishBoy14 tend to sleep in, the last guy rousing himself by 8:30.
Yes, I could make everyone wake up at the same time, but currently I'm observing what their natural rhythms are and letting them sleep as long as they can. Some kids have a natural affinity for early rising and some don't. There are mornings when we have to be somewhere at a certain time, and it's not a problem to wake the whole crowd at once.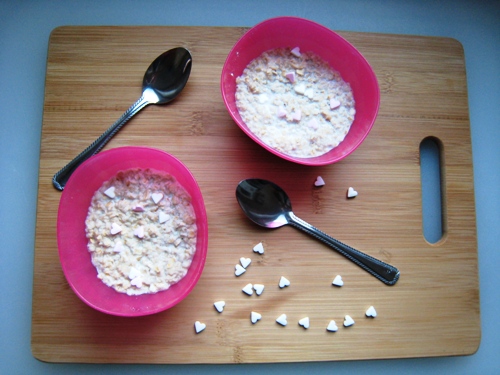 Breakfast bar
I've instituted a new breakfast practice. In order to accommodate this range of wake-up times — and to give myself a break in the morning — I've been laying out a breakfast bar, much like the continental breakfast you might find at a hotel. It typically includes cereal, granola, or oatmeal, fresh fruit, hard boiled eggs, yogurt, juice, milk, and some kind of baked good, like zucchini bread.
So far, it's working well to have this mostly cold breakfast during the week and save the bigger breakfasts for the weekend.
Morning meeting
I try to have a daily morning meeting where we talk about the day and weekly schedule, read Bible together, and discuss the basic themes of our history for the week. All the kids are studying Ancient Egypt, so there is a common thread in what we're doing.
I also like to meet with each kid individually, preferably in the morning, to talk about his assignments for the day. I clarify which tasks are independent assignments, which are group, and which he needs me for.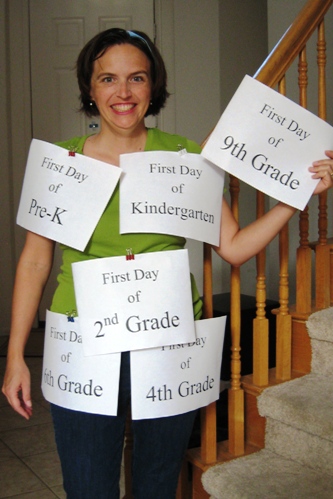 Bounce back and forth like a ping-pong ball
I say this in jest, but some days it is true! For a good portion of the day, I bounce from kid to kid, solving problems, answering questions, refereeing fights, and explaining school stuff. I'm also trying to make sure the laundry gets washed, the rooms get tidied, and meals get prepped. If we have lessons or science class or doctor's appointments, those are thrown into the mix as well.
I do this all very imperfectly.
I can orchestrate one area of our life really well only to have another area fall by the wayside. Last week we got all our schoolwork done — except for making papier mache mummies — but the laundry didn't get folded. I played catch up on Saturday. I've realized that I can't do it all everyday, but I can make efforts to figure out what the most important things are and try to do those.
And true confessions, there is a fair amount of time wasting involved. I can sit down at the computer to request school books from the library — and somehow get derailed for 30 minutes. I'm not sure how that happens, but it does. This week I'm trying to refine my time budget for this new season of life and be better about watching the time wasters.

Happy hour
Hubs comes walking in the door at 4 pm almost everyday. On a good day, I have some kind of snack ready for us all to enjoy and we're all ready to take a break. On a bad day, I'm still doing 2nd grade math and cajoling someone else to up and finish already.
It's like a box of chocolates, he never knows what he's gonna get.
But, I love it that my husband is a problem solver. We both are. And when we will put our heads together and figure out solutions? Y'all just better stand back. 🙂
We can talk about our days, make plans for family activities and life improvements, and remind ourselves that tomorrow is a new day.
About this series – If you're interested in getting started in homeschooling, this is a series recounting our experiences in teaching our children at home, the things that I've learned, and some resources I've discovered along the way. But this way isn't the only way. Your mileage may vary. Coming up next time – Reader Q&A. Send me your questions!
What does a typical day look like at your house?