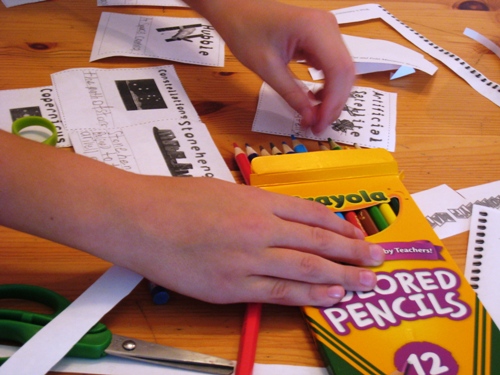 One of my highlights of going back to school — as a child and as an adult — has been having a stash of fresh, clean supplies. When I handed my kids new crayons and colored pencils this last week, I saw that they, too, have an affinity for unbroken crayons still in their wrappers.
Well, everyone does, except the Baby. She proceeded to break a few in half and to start peeling off paper. But that is a post for another day….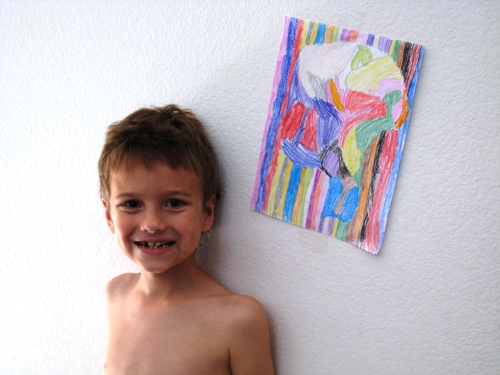 On a more artistic and infinitely less messy note, FishBoy8 made this recreation of "modern art" by Wassily Kandinsky. He read a book about the artist and then got busy. All. on. his. own. Be still my heart.
While I'm not "brand loyal" about many things, I do love me some Crayola. I have tried the bargain brands. I'm sorry. But, they just don't compare. And even though we don't need one, I was sorely tempted to buy a box of 64 this past weekend when I saw them in the store. Oh! How I loved all those wonderful colors.
Crayola and me go way back — at least 38 years. But, what I did not know was that Crayola has been going green for quite some time, beyond just Asparagus, Magic Mint, and Shamrock.
Here are some ways that Crayola is working to reduce, reuse, recycle:

* Crayola Markers – Thanks to new, innovative ways to manufacture Crayola markers from recycled bottle caps, "black" is the new "green!" Crayola markers will now have black barrels instead of white, which allows for more recycled plastic to be used and gives a second life to more than 1 million pounds of plastic bottle caps. Plus, switching to black barrels keeps hundreds of tons of plastic out of landfills each year. Available in 10-ct. Broadline Classic Colors, 10-ct. Broadline Assorted Colors, 10-ct. Fineline Classic Colors, 8-ct. Washable Broadline and 8-ct. Washable Fineline.

* Crayola Green 24-ct. Crayons – The quintessential school supply found in virtually every elementary classroom will be made with the power of the sun. More than 26,200 solar panels will convert sunlight into electricity, generating the energy required to make 1 billion of the 3 billion crayons Crayola makes each year, which equals 60 million 24-ct. boxes. Mother Earth will be smiling down on every forest green, pine green and jungle green crayon that rolls off the assembly line!

* Crayola Green Colored Pencils – Committed to protecting the rain forests since 1987, all Crayola colored pencils have been made from reforested wood instead of wood sourced from tropical rainforest or endangered species. For every tree used, a new tree of the same species is planted. The 12-, 24-, 36-, and 50-ct. boxes of Crayola Colored Pencils will be among the first to carry the "Eco-Evolution" callout on their packaging.
This week one reader will receive a Crayola "Green Back-to-School Essentials" prize pack that includes Crayola Green Markers, Crayola Green Crayons and Crayola Green Colored Pencils.
How to Enter to Win:
Simply leave a comment, telling us your favorite crayola color.
Giveaway will be open until Sunday, August 29th, at 8 pm. PST. Winner to be chosen at random and notified via email. Please respond within 48 hours or risk forfeiting your prize.
THIS GIVEAWAY IS NOW CLOSED. Winners have been announced.
Disclosure: I received a Crayola "Green Back to School Essentials" pack for review from Crayola and My Blog Spark. The information about Crayola practices is also provided by Crayola and My Blog Spark. I was not compensated to make positive comments. My opinions are my own. Please see my disclosure policy for more information.