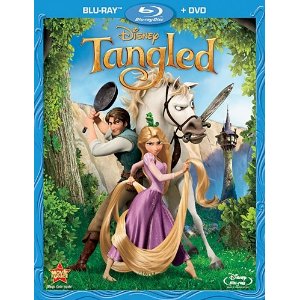 Have you seen the recent Disney movie, Rapunzel? It is fantastic. The story is just beautiful; the animation fantastic. And the happy ending? It's all there.
The woman masquerading as her mother kinda creeps me out, but she's supposed to, she's masquerading as her mother.
It's a story of a princess lost and found, emphasis on the found. And like all true fairy tales, her relationship with her mama is sure to be as rich as the romance with her unlikely hero is to be sweet.
Last weekend, we received a copy of the movie on DVD and Blue-ray for review. The girls have seen it four times since then. (It's a short movie.)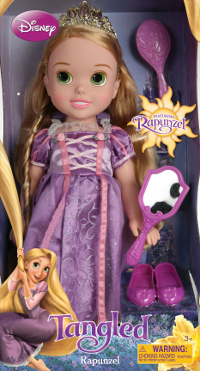 Along with the movie came this sweet thing. Oh my! Since FishChick4 already had a Rapunzel doll, we designated this one for FishChick2.
Her eyes lit up like you would not believe. And of course, I did not have the camera handy, so you will just have to take my word for it. And since I've learned the hard way with Rapunzel dolls, this one got her hair braided right. away. The movie's not called Tangled for nothing.
This weekend, thanks to Disney and Tollytots, maker of a line of Disney Princesses dolls, there are DVD and doll sets to be won!
Three LifeasMOM winners will each win a movie and doll combo pack.
(The doll may be either the toddler or the baby version. The toddler version is pictured.)
To Enter:

Leave a comment, naming your favorite Disney princess.
This giveaway is open until Sunday, May 8th at 8 pm PST. Winners will be chosen at random and notified via email. Please respond within 48 hours to claim your prize. THIS GIVEAWAY IS NOW CLOSED. CONGRATS TO THE WINNERS: knightslady@, euroduck111@, kellyandgreg@
Disclosure: I received sample product. I was not compensated to publish positive statements. All opinions are my own.