This giveaway is now closed. Congrats to the winner: Fireftrjb@
As you know, we're gearing up for a European vacation next year to celebrate our 20th anniversary. I still think it's a joke, but we keep taking steps forward and saving pennies to see if we can make it happen. In the meantime, the kids are practicing French vocabulary on a number of iPad apps and we're talking about how they really will survive without In-N-Out Burger for a month.
C'mon, people! Baguette!
I'm also trying to educate them about French culture in anticipation of our journey. So, what fun to open this "Spread a Little Sunshine" gift basket from Smuckers to find that it is very Frenchified. It's the perfect Breakfast at the Beach Basket! Or as they would say in France, Petit Dejeuner pour la Plage.
Not only does it contain mugs for our chocolat chaud and cafe au lait, but it's packed with confiture to spread on baguette with butter. You know how we love our petit dej. This year I didn't get around to canning as much jam as I would have liked, so I'm pleased with this variety that features all the same ingredients I would use if I were making my own confitures.
There is also a petanque, or boules set to play the classic French game. What more could a mother teaching her children to love all things French want?!
Well, check out the basket because I've got one to giveaway to a Life as MOM reader.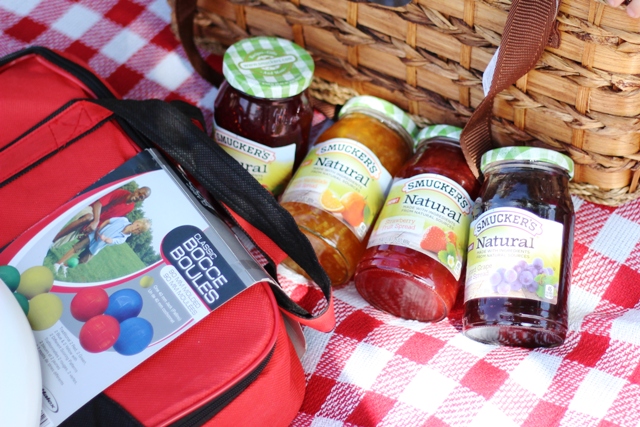 Here's what's included in this weekend's giveaway:
To Enter
Simply complete the information on this form. Please know that the information is only being gathered for the purposes of mailing you your prize in the event that you are chosen as the winner. This information will not be sold, traded, or given away.
This promotion is open until Sunday, September 29, 2013 at 8 pm PST and is limited to US residents, 18 years or older. Friends and family of Jessica Fisher and Life as MOM are ineligible for entry. The winners will be chosen randomly. This post will be updated with the beginning of the winner's email address. The prize for this promotion is provided by and shipped by Smuckers and/or its representatives. Jessica Fisher and Life as MOM will not be held responsible for unclaimed or undelivered prizes.
Disclosure: I have received a Spread a Little Sunshine basket. All opinions are my own.