A Work at Home Wardrobe
We are a participant in the Amazon Services LLC Associates Program, an affiliate advertising program designed to provide a means for us to earn fees by linking to Amazon.com and affiliated sites. We participate in other affiliate programs as well. For more details, please see our disclosure policy.
Working at home means you can work in your pajamas. But, you certainly don't have to. And you might be more efficient if you dress for success. Contributing writer Prerna offers some tips today.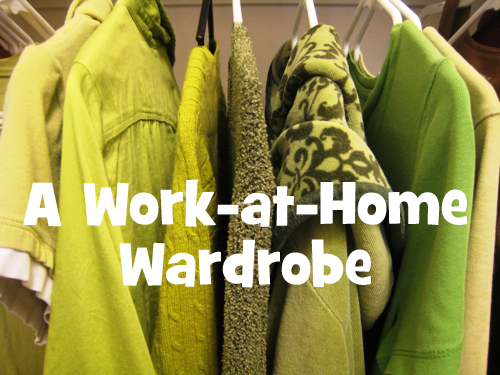 As someone who's juggled working from home and managing the home for the last 5 years, I've come to realize a few important things that keep me going when the going gets tough. Not surprisingly, three of these include how I get ready for the day.
1. Get dressed. First thing in the morning.
2. Dress smart. It feels good to look good.
3. Dress appropriately. Your co-workers can get messy.
Yes, getting dressed for work even if you're not leaving the home for work is a great motivator and a lovely way to take what you do seriously. I mean, would you show up to an office in your PJs. I think not.
Having said that, the fact that you're at home and also at work, means that you need to make just that little bit of extra effort to get organized and have a work-at-home wardrobe.
(Yes, the ability to work in your pajamas is one of the perks of the job, but you might find that you're more productive if you don't make that the regular habit.)
Here's how to organize your wardrobe and make your next workday smarter and spiffier: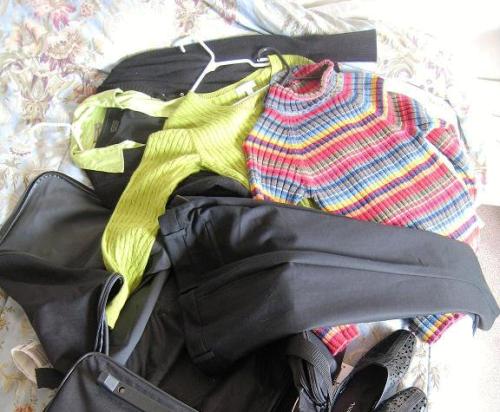 Identify the Classics
First things first, go through your existing wardrobe to identify classics for your workday. For me, it is my collection of knit, semi-casual tops that I picked from Marks and Spencer. They pair beautifully with jeans, trousers, and even, skirts. Add a small touch or two, and ta-dah, I'm done.
Your classics can be smart A-line skirts or well-fitting jeans or all of these.
The idea is to find at least 5-10 pieces in your existing wardrobe that can take you from a client meeting to a play date without having to change.
Comfort Does Not Mean Sloppy
I'm big on comfort. I don't do high heels at home. Neither do I do tight tops or mini skirts. But I feel that dressing comfortably doesn't have to mean dressing sloppily. You don't have to pull on a shabby, torn t-shirt just because no one's watching. You can be comfortable yet smart.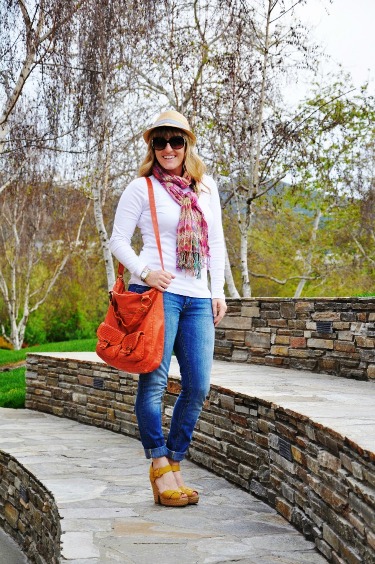 photo source: Rena
Small Touches Go a Long Way
I love accessories and like Rena shared in her earlier post on getting ready in 5 minutes, they are a great way of jazzing up the simplest of outfits. Regular blue jeans and tops can go from so-so to so awesome with a coordinated neckpiece and bracelet. Add a pair of earrings or a scarf and you're all set to swing it!
Dress for YOUR Office
This is probably my most important tip. You are in a special work environment. One where your co-workers will put sticky hands on your top. Or where the 'office' pet will leave hair on your trousers. So, dress appropriately and you'll be less stressed.
This is why it is also important to identify your classics, because they will be unique to your workplace and environment, and not just your body type or personality.
Make Getting Dressed for "Work" Easy on You
Finally, getting your wardrobe organized is the first step, the final step is to make it super-easy to get ready when morning madness hits.
For me that means, laying out my outfit for the next day as part of my evening routine. I even pick the shoes and accessories and if I'll be going out, switch handbags or totes. Doing this in the evening while my daughter is coloring is a lot easier than figuring out what to wear in the morning when she needs me to get her dressed as well!
Do you work-from-home? How do you make getting dressed for work easier for you?
– Prerna Malik is a mom, a wife, a writer and woman who believes in parenting with love, being postively productive, and creating a home that invites you to put your feet up and relax. Check out her free eBooks on organizing and productivity to get literally, hundreds of ideas on how to get organized on a shoestring budget, right now.