Whether you have limited funds or a generous budget for clothes shopping, consider Rena's tips for maximizing your wardrobe with accessories.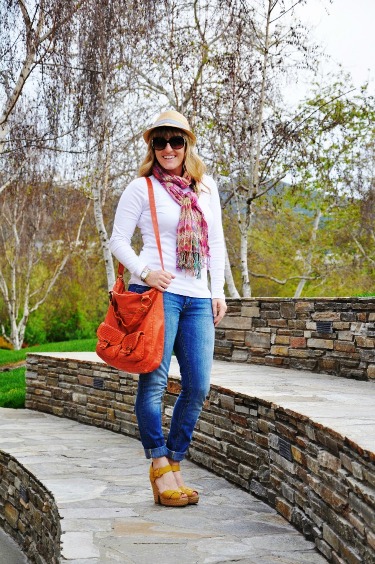 Although clothes make up an outfit, accessories also play a significant role. Accessories have the ability to take any outfit and change it for different occasions. They can change an outfit from looking dressy to rocker or classy to comfy.
For example, let's say we have a simple outfit of a white tee and slim cut jeans. If you put on a hat, a scarf and sandals, this outfit would be perfect for any casual activity.
To wear it to work, just add a blazer, some pearls and a pair of sleek heels.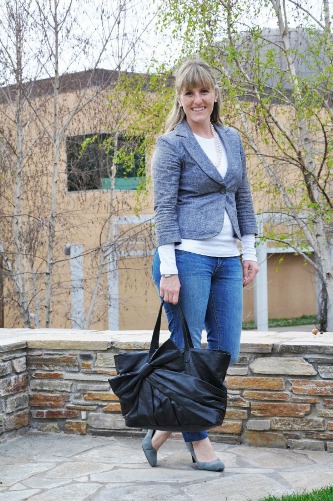 But say you had a dinner date later that night and didn't want to change your clothes. All you have to do is switch out the blazer for a leather jacket, a sparkly necklace and some bold colored shoes.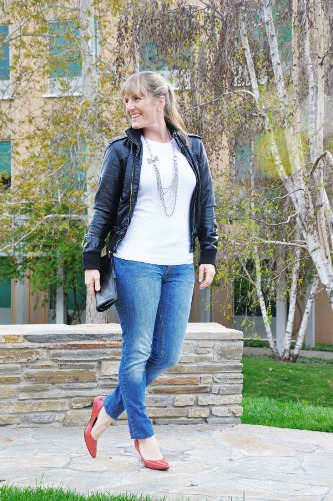 All outfits have the same essentials, but the accessories did the job of changing your look for you.
Go ahead and look at what you already own and use it. Try to use something in a new way and you'd be surprised at how quickly that tiny addition will update your outfit.
Here are some ideas:
If you have a favorite hair pin, try pinning it on your lapel instead.
Try to swap a necklace for a scarf.
Or a pair of flats for some heels.
Add a vest to your favorite dress.
Or wear some colored tights under a dress, instead of leggings or jeans.
Wear a hat as an accessory and not just a skin saver.
Sunglasses and some red lips can make you glamorous in just seconds.
For more images and ideas on how to change an outfit with just accessories, click here, here or here.
What's YOUR favorite accessory?
Rena, aka "the girl with the smile", is an optimistic style blogger in San Diego. Learning about fashion through trial & error (high school years were pretty awkward), she loves fashion and the ability to create a look and boost self-confidence through clothing. Since Rena lives with all men (husband and two sons), she needed an outlet for her fashion knowledge, so she started the blog The Girl with the Smile.