Win a CD from Sidewalk Prophets or Dara Maclean.  This giveaway is now closed. Congrats to the winners: smrogi@ and tammyminchew@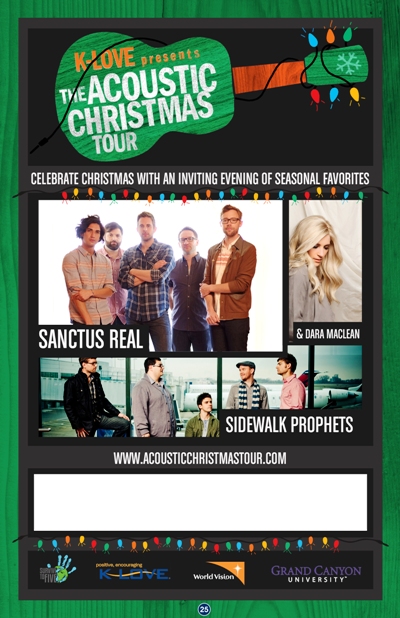 There are key memories in my mind of concerts of Christmases past: the church pageants of my childhood, attending the Living Christmas Tree with my high school friend Stephanie, enjoying Andrew Peterson's Behold the Lamb of God, and of course, listening to those Christmas Eve services when my husband led worship.
There's something quite special about concerts at the holiday time. I'm really, really excited about the opportunity to take a couple kids to the Acoustic Christmas Tour this year. KLOVE offered our family four tickets to check it out.
One of my sons is VERY interested in music, listening to Pandora all the live long day. He jumped at the chance to go hear Sanctus Real, Sidewalk Prophets and Dara Maclean.
He doesn't know there music at all, but he didn't seem to care.
I don't really know their music, either, but you can guess that we'll be tuning in some new Pandora stations in the next week.
The Acoustic Christmas tour
The tour has another week or so before it reaches the end. It may be in your neck of the woods as well. Here are the last dates of the tour:
DEC. 7 Portland, OR
DEC. 8 Sacramento, CA
DEC. 9 Fresno, CA
DEC. 10 Reno, NV
DEC. 12 San Diego, CA
DEC. 13 Phoenix, AZ
DEC. 15 Midland, TX
DEC. 16 San Antonio, TX
Whether you're able to attend the concert or not, you do have a chance to win a CD from one of the artists.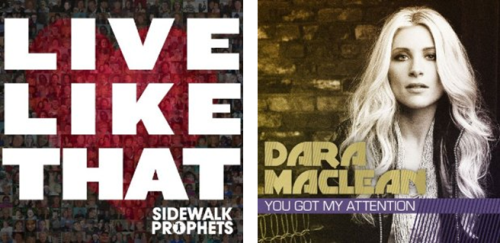 Win a CD
This weekend two Life as MOM readers will receive a CD from either Sidewalk Prophets (Live Like That) or from Dara Maclean (You Got My Attention).
To Enter:
Simply complete the information on this form. Please know that the information is only being gathered for the purposes of mailing you your prize in the event that you are chosen as the winner. This information will not be sold, traded, or given away.
This promotion is open until Monday, December 10, 2012, at 8 pm PST and is limited to US residents, 18 years or older. Friends and family of Jessica Fisher and Life as MOM are ineligible for entry. Please enter only once. The winner will be chosen randomly. The prize for this promotion is provided by and shipped by KLOVE and/or its representatives. This post will be updated with the beginning of the winner's email address. Jessica Fisher and Life as MOM will not be held responsible for unclaimed or undelivered prizes.
Disclosure: I will have press passes to the concert. All opinions are my own.