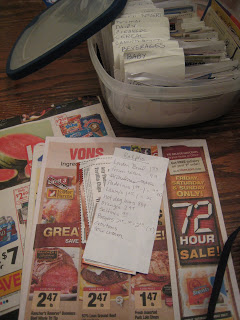 I've mentioned before what a boon couponing has been to our household budget. Now that I've been clipping for the last year, I have figured out some ways to make it work best for our family. Although we moved cross-country into a higher priced community (Kansas City to San Diego), we've still been able to keep our food costs low, using the same techniques I learned last year living in the Midwest.
It's been so fun to share my experiences and to hear from readers as to how they, too, are finding success! Yeah! I'm so glad that my ramblings have been helpful.
Here are the basics to how I go about my grocery planning and shopping each week. It is in no way "the right method." But, it's working for me, so I am gonna go with it for now. I am constantly tweaking things, so it may look different six months from now. Here's how I do it, in several parts:
Coupons – Acquisition and Organization
Grocery Shopping – Planning my trip
Stockpiling and Meal Planning
In order to make this info easily digestible, today I'm just going to cover how I find coupons.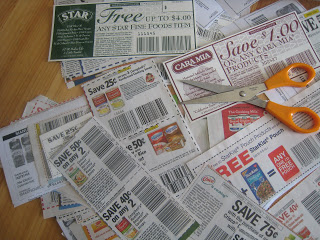 1. Newspaper Insert Coupons – I buy two Sunday papers a week. Visit the Sunday Coupon Preview to get a glimpse of what coupons will be in the paper. If I know that there are some really good ones (ie $2.50 off Electrosol), then I will buy extra papers, peek in the recycle bin at the local coffee shop, or bum them off my mom. I have also found them at the library in the periodicals section. Check with your librarian to make sure it's okay that you take them. I have a feeling that they won't care.
2. Internet Printables – I also scan through the printable coupon sites, like Coupons.com, Eversave, and Red Plum and print coupons for things that I know we will use or really good ($1 or more) coupons on things that I'm willing to try if the price is right. (You can find some great coupons at Coupons.com right now. Just check the peach colored sidebar.) You can also sign up with different manufacturers, such as Kraft in order to print coupons from their websites.
Every day or two I visit Money Saving Mom and Freebies4Mom to see what good printables they might have links to. If you're looking for a specific product coupon, you can check the database at A Full Cup.
Usually, you can print each internet coupon at least twice, so I max that out.
Another online resource is Cellfire where you can add electronic coupons to your grocery store shopping card.
3. Direct-from-the-Manufacturer Coupons – My kids have been trained not to throw away any packaging that might have a coupon on it. I've found very valuable coupons inside oatmeal, cereal, and crouton boxes. I keep scissors handy in the kitchen so those can be clipped before we recycle the box.
4. Junk Mail – I've found some great savings by sifting carefully through the junk mail. Two of my grocery stores have sent large value $5-10 coupons on postcards that I might otherwise have chucked. Now, I look forward to flimsy mail!
5. Free Samples – I sign up for any free samples that sound interesting to me. Not only is this a great way to try a new product and acquire a travel size sample of something, it's also a wonderful opportunity to get a few nice coupons. Manufacturers often include coupons with their samples. You can sign up for free samples with Cool Savings and FreeFlys.
6. Psst and VocalPoint – You can register on these sites for product information, mom helps, and sometimes coupons and free samples. By being a member I've been able to try different food items I wouldn't otherwise try.
7. Store circulars, promo magazines, tearpads, and those coupon-box-thingies – I am like a hawk seeking prey on a grocery shopping trip, that includes searching for coupons. Look next time you're there. There are lots of free coupons available. Just don't be a pig and take them all. Consider what is reasonable. You don't have to use them during that trip. Save them for when you can couple them with a sale for maximum savings.
8. Friends and Family – Since everyone knows I'm a grocery geek, they are happy to share and I often receive envelopes of coupons in the mail. Put the word out with your acquaintances and you may get some fun surprises in your mail box, too.
There are other options, such as cell-phone coupons, loading coupons onto your store membership card, paying for a clipping service, or purchasing them from eBay or elsewhere. I don't have any personal experience with those methods, so I can't vouch for them. But, so far these work for me.
What about you? What's your favorite source for finding coupons?
(Next week: Coupon Clipping and Organizing)