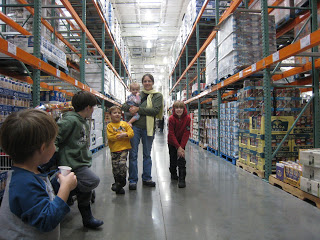 It's been exactly one year since I first started this couponing/frugal shopping adventure. I have learned a lot about saving money and reading the fine print. I have also found some fun blogs and made some great friends in the process. Saving money does not have to be drudgery!
Prior to last February I thought we were pretty frugal already. We didn't take fancy vacations or eat out very often. Target's clearance section was my favorite spot for clothes shopping. But, a big wake up call made us sit up and take notice of some bad habits. Now that the economy has tanked, we're so grateful that our finances busted so early in the game. We learned to adjust.
A year ago, we spent an average of $820 to feed our family of 7. Then, we made some changes in our eating and spending habits. The average for the last twelve months is now down to $620, this includes increasing our family size, diapering two children, dealing with pregnancy, and making a cross country move. While some months have been as low as $400, others have not. But, overall, it looks like a good trend to me. I'm hoping to decrease our average even more in the coming twelve month period.
Maybe you, too, are trying to figure out how you can reduce expenses. I am convinced that no matter where you are right now, you can still shave a little more off. I've talked to plenty of people in dire straights over the years, and there's always been a little fat, even if it's just a very little, that could be cut from expenses.
You may not be convinced, so let's figure it out. Part of being a joyful mom is not being overdrawn!
So, what do you want to know about coupons and frugal shopping?
Leave your questions in the form below.
If I can't answer them, I'll find someone who can. And as a thanks for participating, each person who completes the form will be entered in a drawing for one of two coupon packages, valued at $25. So, please make sure you leave your email address so I can contact you if you win.
(Giveaway is open until Sunday night, Mar 1, at midnight PST. Winners will be drawn at random.)