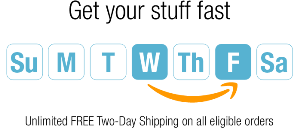 I remember back in the days of dial-up and squirrel speed internet connections. FishPapa came home and told me about this place called Amazon that sold books for less money than the stores.
Since we've always been bookworms, we were intrigued. We've been extremely happy Amazon customers since 1998.
In recent years, I've seen their service only improve with age.
Next thing you know the books will be free, too.
Yeah, well, probably not, but a girl can always hope.
This year somehow, I've left my boys' gift shopping to much later than usual. So, I have a date with Amazon this weekend to get their presents chosen and shipped. I did most of my shopping this way last year and found the prices to be comparable — if not better — than stores like Target and Walmart.
Plus, I can shop in my pajamas! And with free 2-Day Shipping, I'm not too worried about it getting here on time.
How does Amazon work for you?