An Easy Fall Feast (URS: Fall Favorites)
As an Amazon Associate I earn from qualifying purchases. For more details, please see our disclosure policy.
Fall is replete with things to celebrate: cooler weather, changing leaves, and good eats. Here's an autumnal menu to get you started.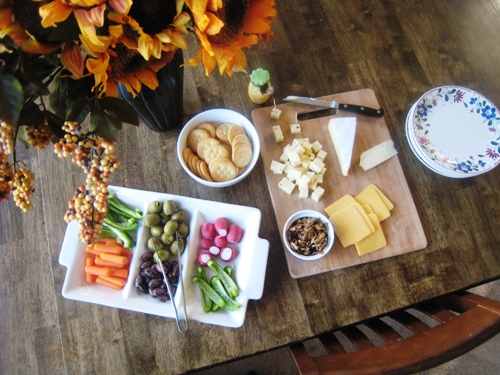 Fall is probably one of my favorite seasons. After the heat of summer, I welcome the cool nights, the chill that lingers in the morning air, and the lovely produce that comes with the season.
The changing of the leaves, while not as dramatic here in San Diego as it was in Kansas, seems so restful to me. It's a nice respite for the eyes amid the hustle and bustle of the school year.
I was encouraged by this post over on Simple Kids this week to reestablish the Sunday Feast. The summer weekends have been rather lackadaisical with mealtimes being a little hodge-podge. What a great entry into fall to bring back a celebratory meal on the weekends.
We shouldn't wait for company or special occasions to have festive meals with our children. But, I confess, I can drift that way. But, the days are passing quickly. I don't want to store my treasures in cardboard boxes.
If you're game for a Fall Feast, here's an easy menu to get you started, replete with some of my fall favorites.
Appetizers
This appetizer takes almost no work to pull together, and it's great for casual get-togethers, especially those that might be punctuated by touchdowns and field goals. (Ahem.)
Easy factor: Chop some vegetables (or buy them pre-chopped), unwrap, slice/cube some cheese, open a box of crackers or slice some bread. Mix up the nuts and seeds in advance and store in an airtight container.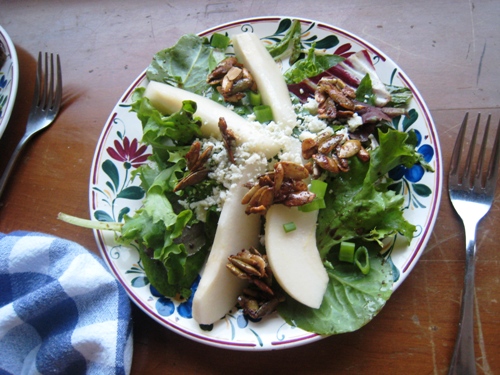 Salad
I am a salad girl. A meal doesn't really seem complete without a salad. This Pear and Blue Cheese Salad with Maple-Spiced Toppings, rich in blue cheese and juicy with pears is tasty, easy, and very quick to assemble. For a special touch, chill the plates in the fridge or freezer before dishing up.
Easy factor: It's a salad! Salad's are easy. Mix up the dressing in a jar. Slice the pears. Toss the greens. Assemble.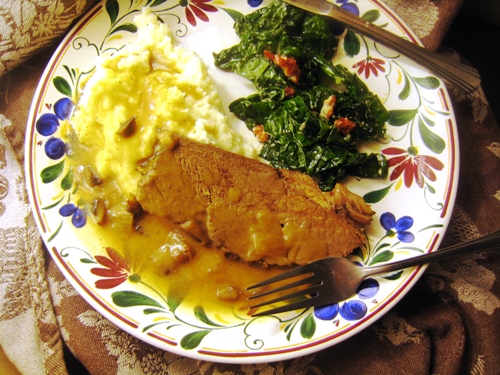 Main Dish
Let your slow cooker do the work for you. A pot roast braised in the slow cooker is good eats. And easy to pull off. Serve sauteed greens and mashed potatoes on the side for a filling, seasonal meal.
Easy factor: The slow cooker does most of the work here. Sear the meat, saute the aromatics, and walk away. Later make a gravy with the drippings. Mashed potatoes can be made ahead of time and frozen. Greens saute quickly, less than ten minutes, depending on the variety.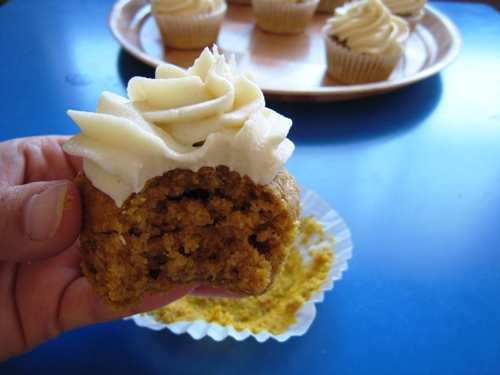 Dessert
End the feast with these easy, make-ahead Pumpkin Cupcakes with Cream Cheese Frosting. They are so good. And a little on the healthy side with all that pumpkin, right?
Easy factor: Bake the cupcakes up to a day in advance. Frost prior to serving. Use a pastry bag to make it quick and pretty.
That's what I call a feast full of the flavors of fall!
What are your fall favorites?