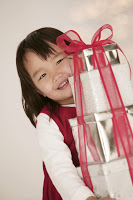 We've touched on so many Christmas topics this week. I'm amazed that really we've only skimmed the surface. Here are just a few of the topics:
The Reason for the Season
Christmas Cookies
Decorating Cookies
Christmas Music
Holiday Donations: here and here
Christmas Stockpiling
Christmas Ornaments
or click on "Christmas in July" in the sidebar under "Labels."
Like I said, we've only skimmed the surface, so as summer drifts into fall, you can be sure that I'll be bringing this all to mind again.
One thing we haven't discussed yet is creative gift wrapping ideas. I found this link from Real Simple. Thought it might inspire you to think creatively over the coming months and how you can add a unique flair to your packaging.
Lastly, the winners of our last two giveaways:
The winner of the Hallmark package of Keepsake Ornaments is: Joan!
And the recipient of the fantastic Behold the Lamb of God album is: Grammy!
Ladies, please send me your names and addresses to lifeasmom (at) sbcglobal (dot) net so I can mail you your prizes.
Thank you everyone for contributing! I've enjoyed hearing your stories and memories and traditions. They are inspiring me toward thinking up new and fun things for our family to enjoy this Christmas. May this holiday season be merry and bright for you!
And God Bless Us Everyone!