Did you preorder a copy (or two) of my new book, Good Cheap Eats? I've got a new bonus feature waiting for you.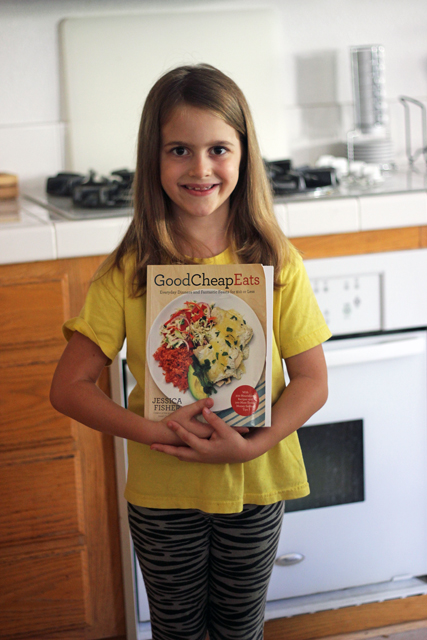 So I wrote this cookbook called Good Cheap Eats. It is full of budget-friendly, kid-friendly, easy-to-prep meals. It's our newest baby.
I say "our" because my cookbooks are very much a family affair. My kids and husband help me so in the kitchen, particularly during recipe testing. They are the ultimate taste testers. But, they are also getting pretty independent in the kitchen. I can hand my third grader the book and she goes and makes a recipe all. by. herself.
There are over 200 recipes in the book; very few of which are available online. When you buy a book, we want it to be worth your while. If you could find all those recipes online, it wouldn't really be worth buying a real live book, would it?
Now one of the tricks about this book is that I had more to say than would fit in the pages. It's a ginormous tome. So, like they do in the movies, I've created a few bonus features with that extra content. Last week, if you were paying attention, you were able to sign up for the first of the bonus features: a budget meal plan with grocery list and prep-ahead tips. That little freebie is currently unavailable.
However….
There's another bonus feature.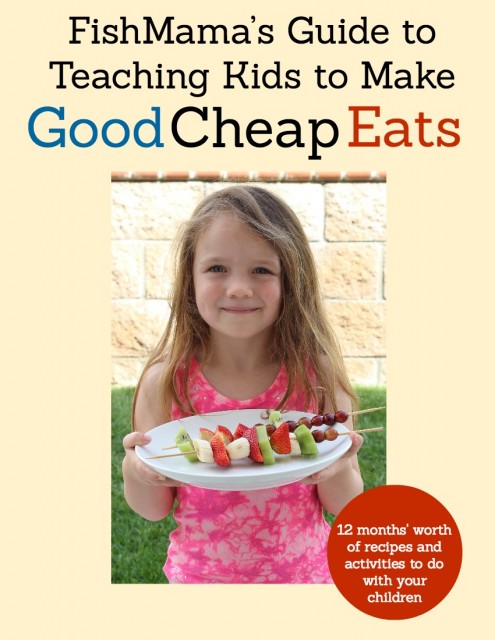 My kids LOVE to cook. It seems like only a few years ago I was stranded in the kitchen all on my own. Now the helpers are just bursting in and taking over. Amen; hallelujah! Having a hard copy of the new Good Cheap Eats cookbook helps a lot. I can just pass it off to my husband or a reading child and we are good to go.
(At this date, one child can't read fluently, but her day is coming!)
The newest bonus feature (not available for purchase) will help you position your own kids to be great cooks in the kitchen. Aptly titled, FishMama's Guide to Teaching Kids to Make Good Cheap Eats, it includes monthly recipes and activities to do with your children. There are recipes included as well as tips and meal plans to help you maximize your use of the Good Cheap Eats cookbook.
If you've preordered the book, fill out the form below (or go here for the live form). We'll send you the pdf when the book ships so you're all ready to go.
Want this ebooklet? You'll need to pre-order and submit your form by Tuesday, August 26th. 
Leaving a comment on this post will NOT get you your preorder bonus — though I do love to chat with you. You have to fill out the form. Them's the rules. Thanks again for your support! I can't wait for you to have a copy of Good Cheap Eats in your hot little hands.
Disclosure: Thank you for your purchase of Good Cheap Eats. Your support helps keep this show on the road.