Want to eat well and spend less? Me, too! Here's how I'm working to improve our diet and stay in the black.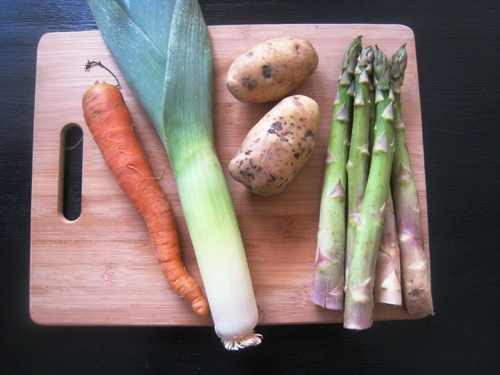 Exactly a year ago I found myself in the grocery store with a huge case of sticker shock. I could not believe what the stores were charging for simple groceries. I almost broke into tears over a package of overpriced tortillas.
The idea stayed with me that night and into the morning:
I will not go quietly.
On a whim, I dashed off an email to several bloggers from different areas of the continent. WHAT are we going to do about this? Surely, we are not alone in wanting to feed our families healthy food without spending too much coin?
What resulted was a wonderful collaboration of nine blogs working together to brainstorm new and creative ways to eat well and spend less. Over the last year, we've covered a range of topics, including:
It's been a year now since the Eat Well, Spend Less girls and I got together. I've learned so much from Aimee, Amy, Carrie, Katie, Katie, Mandi, Shaina, Tammy. And we've grown a lot over the last year. Not only have several of us made a change to increase the nutrition in our diets and our kids have grown in size and age, but we've also added a few more babies to the mix. A couple of us have written books, and one is relocating to a new area where she'll be learning how to source great food in her new locale.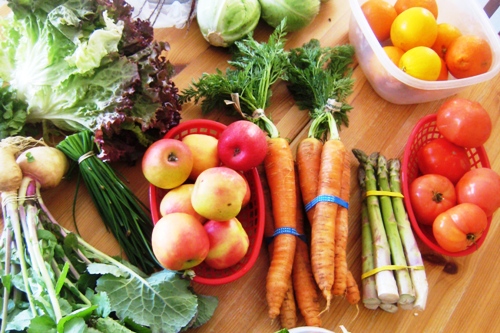 We're celebrating a Year of Eating Well and Spending Less!
This week we're each sharing an update on how we shop and cook in order to eat well and spend less. While I didn't have a baby in the recent past, my family is growing by leaps and bounds. My teenage son towers over me and consumes calories at a great rate. His younger brothers are not too far behind. Neither are his sisters, for that matter.
Combine that with my desire to buy more organics and fewer processed foods, and it's been a challenge to keep our food budget in check. In 2011, my grocery spending averaged $715 per month. While my average is higher for this year to date, it's still well below the national average for a family of 8.
Here are some ways that I've changed my habits over the last year:
1. I'm pickier about what we're eating.
Over the last year or two, I've done some food reading that has made me think twice about the food my kids eat. Without getting into big discussions or freaking anyone out, I'll just say that my research has made me work toward the following changes in our diet.
organic produce where possible, and definitely for the Dirty Dozen
no GMO's
hormone-free milk and dairy products
a reduction in our processed sweeteners
no pink slime
no unfermented soy
In no way would I enforce these restrictions on other people. It's just where I've found my comfort zone. These are weighty goals and fairly difficult at the moment. I'm learning where to source the items that fit these categories. And some are harder to pull off than others.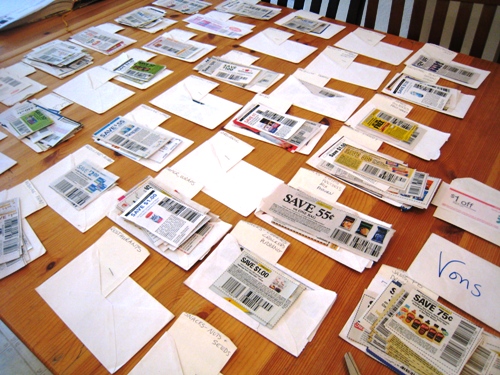 2. I kissed coupons goodbye.
Gasp?! Well, not exactly. But, I use far fewer coupons than I did in previous years. As I move our family away from processed foods, I found that I was using fewer and fewer coupons. The amount I might save was not commensurate with the time I would spend to hunt for good coupons.
Yes, coupons are available for healthier products and plain old "ingredients", but I've found the selection to be fairly slim — or simply not worth the time investment. My coupon bag is a slim addition to my purse.
3. I subscribe to an organic produce co-op.
Reader Bethany told me about Abundant Harvest Organics last summer and what a blessing! I subscribe to a weekly delivery of organic produce that is indeed, abundant. (I post my haul every week on Grocery Geek.) For $37 I get a huge box full of fresh from the farm, California grown fruits and vegetables.
Not only am I feeding my family more fruits and veggies, but we're also learning to like a larger variety of produce, including some weird things, like Pea Tendrils.
4. I shop at fewer stores.
Since I have new picky guidelines (see point #1), it's easier to shop at stores that I know carry those items. This means that Trader Joe's and Costco are my friends. Trader Joe's guarantee promises no GMO's in their store-brand products. This makes it easier to shop without having to read every picking label. And both Costco and Trader Joe's sell hormone-free dairy products at great prices as well as ground beef without the slime.
However, those stores don't carry every ingredient I might need, I also shop at Ralphs and Sprouts on a regular basis. These two offer the specialty items I might want for recipe testing or better coffees that we prefer.

5. I still hunt down the loss leaders.
Although, I'm no longer doing big couponing, I still stock up when I see a great price. I love my stockpile!
Recently, Ralphs had our favorite Starbucks blend on sale for $5.88 a package. You have to buy a lot at that price! I bought six packages that should last about six weeks, when I hope there will be another sale.
6. I cook from scratch.
One of the biggest ways that I save money AND eat better is to cook or bake my own. Having regular freezer cooking sessions helps this. And recently I've started to keep a batch of Artisan Bread in 5 Minutes dough on hand. I crunched the numbers and found out that the ingredients cost per loaf was $0.25! This is an easy way for me to shave a few dollars off our grocery bill.
7. I am doing a regular grocery audit.
Recently I shared on Good Cheap Eats about how I went over budget last month and have been revisiting some strategies to help bring down our average food costs. I need to have a realistic view of who I'm feeding, how we're eating and what our needs are. And with a mess o' kids, this reality is often changing. Doing a grocery audit helps me do this.

This post is part of an ongoing series about how to eat well and spend less. Along with some fabulous foodies, organizers, and frugalistas, I've been bringing you suggestions on how to eat like a king without becoming a pauper to do it.
This month we're sharing updates as to how our eating and spending have changed over the last year.Be sure to check out what the other ladies are sharing this week or browse their archives:
How are YOU eating well and spending less?