Answering Your Child's Questions about Special Needs
As an Amazon Associate I earn from qualifying purchases. For more details, please see our disclosure policy.
At some point, our children will ask the question, "Why is that person different from me?" Life as MOM contributor Deanna shares about answering your child's questions about special needs.
It's coming. I don't know when, but it is directly ahead. Whether 1 year from now or 1 week from now, this question is inevitable. And I'm not sure what I'm going to say.
Will it be a casual question like "Hey mom, why is Addison so different?" or will it be one of anger, "It isn't FAIR that I have to do this and Addison DOESN'T."
Perhaps just curiosity, "Why does my sister talk differently than my friend's sisters?"
I don't know, but I feel this need to collect myself ahead of time. To know what I will say. Because as my little boy stares at me with those blue eyes, trusting me more than I know what to do with, I have to have an answer.
I don't want him to resent the fact that his sister has Down syndrome. I don't want him to hate her for being different. I don't want him to ever wish her away or be embarrassed by her.
Right now he doesn't even know that those things are possibilities because he hasn't asked the question yet.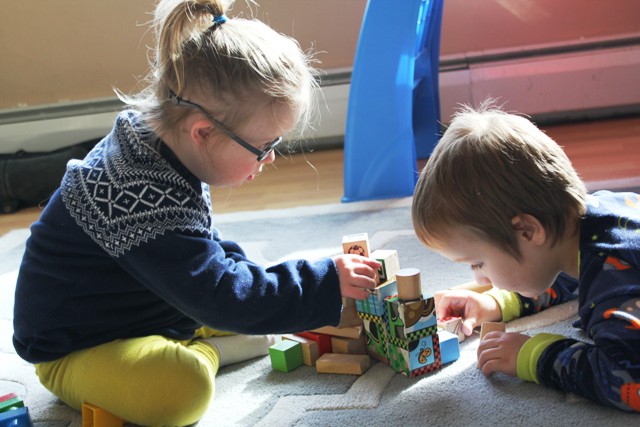 Why is she different?
For now I try to build stepping stones up to this tall tower of "the question". I emphasize kindness. I repeat "We treat others as we want them to treat us!" When he complains that Addison isn't having to do something he is, I tell him he is only responsible for Carter, let Addison worry about Addison's obedience.
Tonight after bath, he asked me some very specific questions about his body's anatomy versus Addison's and mine. Wincing inside, I stared at him and just told him the truth. Yes, Addison and I have different body parts than he, Daddy, and Eli have.
"Oh, ok." he said, and moved on to the next thing.
Maybe the question will be nothing more than that. Maybe because he has the privilege of knowing Addison as a person long before he ever registers the words "Down syndrome", he will just hear a straightforward answer and move on.
Maybe it will be "Hey mom, why is Addison different?"
"Well son, Addison has something called Down syndrome. She was born with it. It isn't a bad something. It's just a different something. It doesn't make her any less your sister or the person that you have been wrestling and playing with for the past four years. It just is."
"Oh, ok." and maybe he will just move it along without giving it a second thought.
I don't know.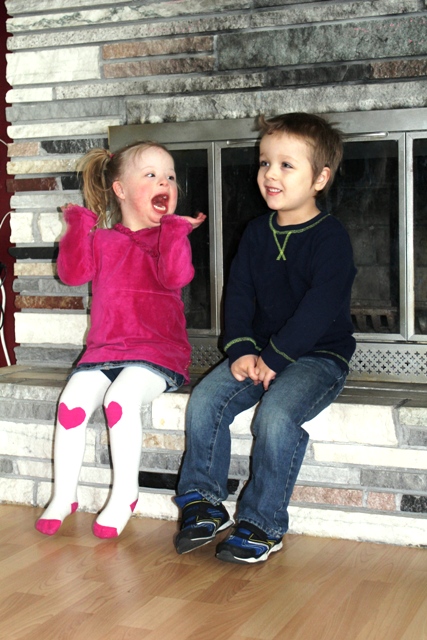 It's a strange thing, our perceptions of "something". My perception when I first heard the words Down syndrome was "BAD and HORRIBLE and LIFE CHANGING". My son, who has known only happiness associated with his sister, will have a completely different perception of Down syndrome. He will never have known life without Down syndrome being a part of it.
To be honest? I'm completely jealous. Down syndrome has taught me so much that I wish I could go back and change my initial perception to the happy one that time has brought to our family.
This whole concept of teaching my children all about life and building their perceptions is a scary thing.
What will other parents say?
I can't help but think about all of the other 4-year-olds right now asking their moms "Hey, why is that little girl so different?" and wondering what those moms will say, knowing that their response perhaps might shape their child's perception of disability for life.
How will they answer the question about Down syndrome or other special needs?
Hey, I'm not judging. I am sweating in my boots just imagining the conversation myself.
But as I stare into the almond-shaped eyes of my little girl, as I hold her close and melt into her sweet hug, as I listen to her voice speak to me…yes decidedly different sounding…but words that she has carefully chosen to communicate with me, I can only hope that these conversations will include something along the line of, "You know, it can be a beautiful thing to be different. Difference isn't bad. It just is."
Other Posts by Deanna:
Deanna is passionate about special needs advocacy and new motherhood- two things that go hand in hand for her right now. Three kids four and under, the oldest of which has Down syndrome- keeps her quite busy. But there's always enough time left at the end of the day to write all about the insanity at her blog Everything and Nothing from Essex. And to laugh- always, always there is time to laugh.
Technically labeled a "special" mother, Deanna really finds nothing special about herself. Truly, special needs parenting is just about taking it one day at a time- enjoying the highs, sloughing through the lows, and stumbling through the mundane while drinking too much coffee. Read all of Deanna's posts here.
How do YOU handle your child's questions about differences and special needs?