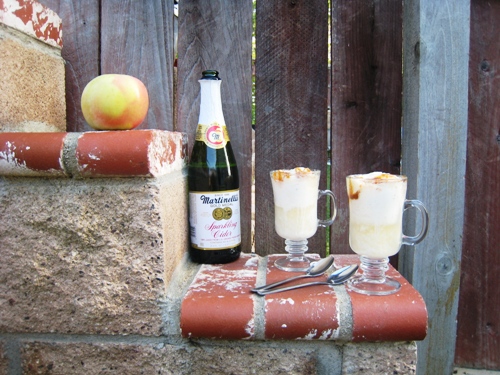 So, I've mentioned before how much I enjoy Pinterest. One of the things I love about it is that I actually do some of the things that I discover there. Today's recipe is inspired by one such discovery.
However it also reveals one of my faults. I don't always read directions.
And so, when I saw this picture of Rachael Ray's Apple Cider floats, I made a few assumptions, primarily that she used sparkling apple cider to create floats.
She didn't.
She used hot spiced cider. Which is probably pretty good. I imagine the ice cream melts into the hot cider, creating a hot, creamy, yummy treat. But, I didn't catch that when I scanned the recipe before making my grocery list.
Instead, we created cold, creamy yummy treats. And I'd like to point out that my lack of attention paid off!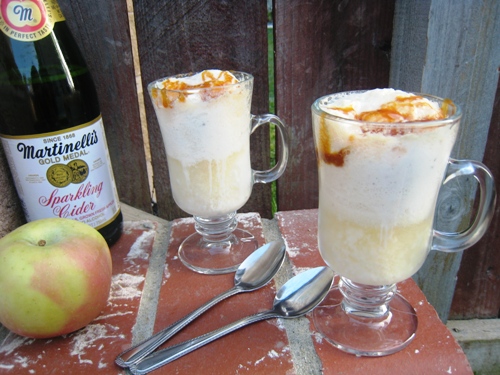 These floats are delicious. Cold, bubbly apple cider, vanilla bean ice cream, drizzles of caramel sauce. Yeah, baby. It works.
Recipe: Apple Cider Floats
Ingredients
caramel syrup
vanilla ice cream
1 bottle sparkling apple cider
Instructions
Warm the caramel syrup to a drizzle consistency.
Meanwhile, in each glass place two scoops of ice cream. Pour cider over the ice cream. Drizzle caramel sauce over the foam.
Serve immediately.
Preparation time: 5 minute(s)
Number of servings (yield): 4
Ok, yes, this isn't exactly a recipe for apples. But, the roots of this dessert are found in apples. Apples make apple cider. If you make your own apple cider — though I have no idea who does — so much the better. Either way, these are delish!
Share your favorite apple-based recipes with us today!
Ready to swap?