April Freezer Cooking: My Game Plan
We are a participant in the Amazon Services LLC Associates Program, an affiliate advertising program designed to provide a means for us to earn fees by linking to Amazon.com and affiliated sites. We participate in other affiliate programs as well. For more details, please see our disclosure policy.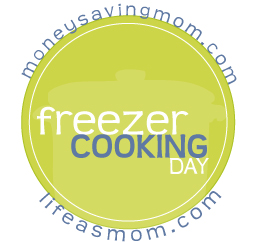 Last weekend, I took an inventory of what food was in the freezer and saw that we had 20+ meals already to go for April. I cooked like crazy a month ago and we're still reaping the benefits of it. I feel a little scatter-brained about my freezer cooking this month since I've, well, felt a little scatter-brained about everything lately. No, I'm not pregnant. Just not multi-tasking as well as I think I should. I'm still trying to figure out which of my expectations of myself has got to give.
While I do that, I figure I might as well set our kitchen up for success this month by preparing some of our staple foods in advance. The items that disappeared from our freezer first last month were shredded chicken, taco meat, red sauce, and pinto beans. So, I'll be making batches of those this week.
And because I love convenience items, especially when they're homemade, I'll be making several batches of baked goods, baking mixes, granola, and of course, our Easter Dinner.
Here's my eclectic, albeit ambitious plan:
Dinner components:

Side Dishes:

Breakfasts:

Dessert:
I'm really interested to see how my friend Crystal does this month's Freezer Cooking Days. She has three sisters, a sister-in-law and her mom on board as they cook up a storm to feed their families this month. Wow! If you're interested, you can link up your planned cooking list today at MoneySavingMom. On Friday afternoon, Crystal will have another link-up for you to share all about your Freezer Cooking Day accomplishments.
Will you be joining me and Money Saving Mom over the next few days as we fill the freezer to save some time and money? I hope so!