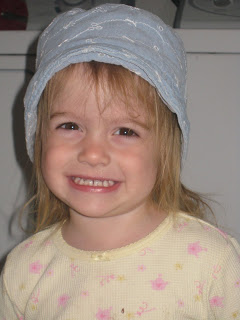 I've successfully potty trained four boys. And I've lived to tell about it. While I still step in the occasional puddle, for the most part the experience has been painless. In fact, most of them trained in less than a week. My method has been to wait until they were 3 and more than capable of understanding the process. Then, it all fell into place very quickly.
I've heard girls are different. I've heard that potty training a girl happens quicker than training boys. I've head that they train earlier. I've heard that it is easier.
So, lay it on my ladies. Are the rumors true?
FishChick is 2 1/2 years old. She'll be 3 in November. If she were a boy, I'd wait until November. But, 'twould be nice not to worry about potty training during the school year. It'd be nice to make the transition during summer break.
She can dress herself – when she wants to. She can speak in almost full sentences. She can unload the dishwasher virtually by herself.
So, what do you think?
Is it possible?
Would you start potty training now?
Got any words of wisdom for this new girly mama?