Are the Big Rocks as Big as They Should Be?
We are a participant in the Amazon Services LLC Associates Program, an affiliate advertising program designed to provide a means for us to earn fees by linking to Amazon.com and affiliated sites. We participate in other affiliate programs as well. For more details, please see our disclosure policy.
You've probably heard the illustration multiple times. The college professor, lecturer, motivational speaker, or philosopher is standing in front of a large group with a big jar, a pitcher of water, and rocks of varying sizes. The rocks and water certainly appear to be too numerous or bulky to fit inside the jar. He then proceeds to demonstrate how all these items can fit inside the big jar if the larger rocks are placed inside first.
You know where this is going. The lesson here is that in life, we need to put the big rocks in first.
Big rocks = Big priorities.
Usually, the application of this illustration is that we should make sure that we take care of the most important things first. However, I think that most of us do put the Big Rocks first.
It's just that sometimes we can view the wrong things as Big Rocks.
I know I do. I can view that project, that trip, that errand as more important than the truly important things. More important than reading the story to my littles, taking a walk in the park holding hands with my honey, praying and talking with my young men before they go to bed, or trusting in The One who has saved me.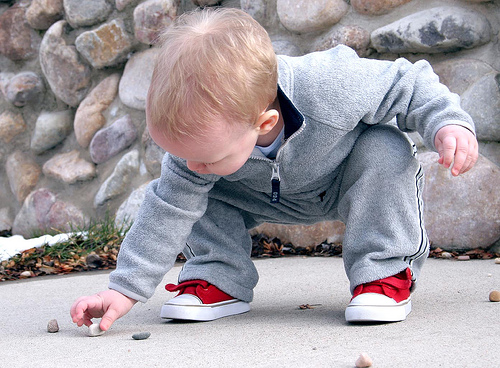 What's Most Important?
Sometimes the less important things in my life appear much more urgent, BIGGER, than the most important things in my life. What I think is a "Big Rock" really isn't. That's when it's time for a reality check. And sometimes, not always, but sometimes, how I allot my time reveals how I view my priorities and my Big Rocks.
A wise man once told me, "We all do what we truly want to do. Just sometimes we don't want to do those things that are most important."
This week I'm praying that I have eyes to see what's truly important, that I would want to do the most important, that I would make the Big Rocks be as big as they should be.
I'm praying that I can follow the Psalmist's advice (Psalm 37:3-4):
Trust in the LORD and do good;
dwell in the land and enjoy safe pasture.

Delight yourself in the LORD
and he will give you the desires of your heart.
What do YOU do to keep your Big Rocks Big?