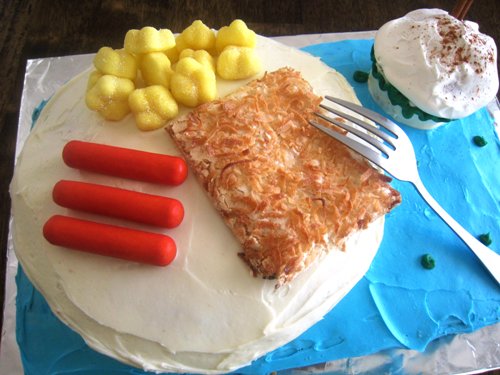 Years ago I used to host a Birthday Cake Challenge twice a year. Readers would challenge me to create a birthday cake with a certain theme. This was probably the doozy: Breakfast on a Cake. 
I still love it. I think it's perfect for April Fool's Day. It's all sweet and edible. I used a coconut meringue concoction for the hashbrowns,  bubble gum hot dogs for the sausages, and candy popcorn for the scrambled eggs.
Yes, I'm pretty proud.
That's where my pranks end. I am not a 4/1 prankster.
I don't know that I really like April Fool's Day. And I know that if I pranked my kids, it would back fire on me somehow. I tried to serve them dessert before dinner once and I had a revolt on my hands. So, no, I keep things low key around here.
How about you?
Do you play the April Fool? What have you got planned for the day?