Are You an April Fool?
We are a participant in the Amazon Services LLC Associates Program, an affiliate advertising program designed to provide a means for us to earn fees by linking to Amazon.com and affiliated sites. We participate in other affiliate programs as well. For more details, please see our disclosure policy.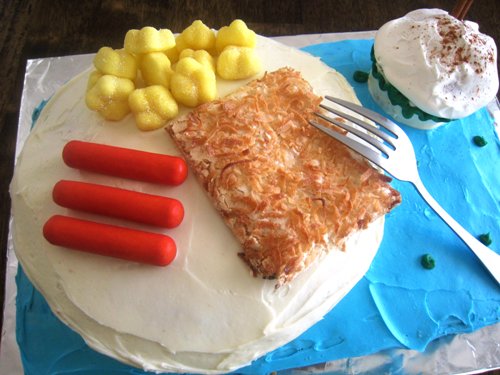 Years ago I used to host a Birthday Cake Challenge twice a year. Readers would challenge me to create a birthday cake with a certain theme. This was probably the doozy: Breakfast on a Cake. 
I still love it. I think it's perfect for April Fool's Day. It's all sweet and edible. I used a coconut meringue concoction for the hashbrowns,  bubble gum hot dogs for the sausages, and candy popcorn for the scrambled eggs.
Yes, I'm pretty proud.
That's where my pranks end. I am not a 4/1 prankster.
I don't know that I really like April Fool's Day. And I know that if I pranked my kids, it would back fire on me somehow. I tried to serve them dessert before dinner once and I had a revolt on my hands. So, no, I keep things low key around here.
How about you?
Do you play the April Fool? What have you got planned for the day?