Are You on Zone Defense?
We are a participant in the Amazon Services LLC Associates Program, an affiliate advertising program designed to provide a means for us to earn fees by linking to Amazon.com and affiliated sites. We participate in other affiliate programs as well. For more details, please see our disclosure policy.
Some folks just intuitively keep their homes spotless. That would not be me. I try, though. I usually have the living areas picked up.
Thursday, however, was a crazy day. I was prepping for a photo shoot that involved a professional photog, SIX kids, and food. There was clothes and ingredients and equipment to pack up. So, I let the girls do whatever they wanted while I got us ready and out the door.
The house, particularly the entryway, was an absolute wreck. The girls had pulled out play table, play food, blankets, you name it. It was strewn all over the foyer. (I wish I had taken a picture.) We left in a rush with no time to tidy before we piled in the car.
Of course that would be the day a federal investigator came to the door.
Thankful, he was not investigating us! He was doing a background check on a neighbor applying for a job.
Either way, it took me a moment not to feel absolutely appalled at the mess behind. Apparently, he'd seen worse; he shrugged it off when I mentioned it.
It was a great reminder and encouragement about how good it is for me to be on Zone Defense.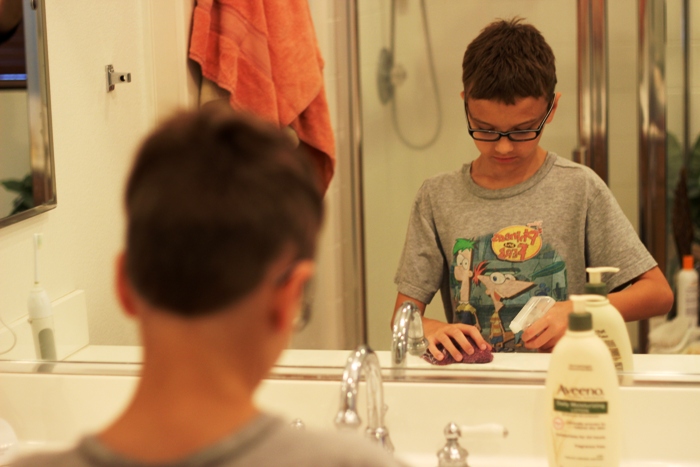 Zone Defense
Zone Defense is a month-by-month plan to clean and organize the home. This is my second year following the plan. And while it doesn't ensure that my house is immaculate 24/7, it does help us stay a little more picked up.
Each month we visit a different zone of the house and set it to rights. Or do some project. Or somehow leave it better than it was when the month started.
You can check out the Zone Defense archives here.
This month's assignment: Bathrooms
Check out these posts for ideas on how you, too, can improve the utility of your bathrooms:
Are you with me on Zone Defense?
Tell us what you accomplished this month. (It doesn't just have to be bathrooms.)