Are You Still Booking It? September Check In
As an Amazon Associate I earn from qualifying purchases. For more details, please see our disclosure policy.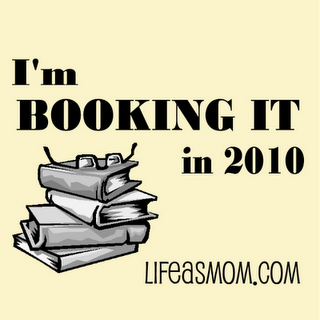 How has your reading gone this past month?
Booking It is a monthly book club where you get to choose what you read and then tell us about it. This is our monthly check in to see what each other is reading, to recommend books to others, and to offer a little "virtual" accountability. It's nice to be able to report to someone about our reading goals and progress.
Family Read Alouds
I have been reading lots of read alouds and chapter books with the kids, so I haven't done as much personal reading as in months past. And that is actually a really good thing. I find that when I'm reading with my boys, we have this precious time together right before bed. A shared book is such a bonding experience. We laugh together and try to figure out the mystery or problem at hand. It opens up avenues of conversation throughout the day as well.
The Bible in 90 Days
Aside from school reading and reading for fun with the kids, I've continued my Bible in 90 Days reading. I'm stunned that I'm only about two days behind. Some weeks I've trailed by seven days. The minor prophets really threw me for a loop and I found it hard to get through the days' reading. Getting behind was a bear to catch up on. But, the New Testament begins this week so I'm hopeful that I can make up for lost time and finish on schedule.
It's amazing to me all that I've gleaned from reading at a steady pace such as this. It's been a great experience even though I'm behind. I think one of the benefits is that it takes the intimidation factor out of Bible reading. We shouldn't feel intimidated to read God's word. He wants us to read it!
A Different Look at Work
Last month I told you about The One-Minute Manager and how I viewed it through the lens of home and family manager. Even though it addresses issues in the business workplace, so much of its message was transferable to "life as MOM." I've found myself going back to those three steps of making expectations clear, offering praise, and being clear when someone doesn't do what they're supposed to be doing. It's really helped me see that I can help my kids do better by communicating better myself.
I just started another book, Do More Great Work, that I think is giving me another way of looking at my life. My life as mom and home manager is my work and I want to do it better. While I haven't gotten into the book very far, it's helping me assess what I'm doing and how I want to do it better. It's fascinating to read something destined for "the workplace" through the lens of motherhood. Hopefully, I'll be able to report back more fully next month!
How about you? Read any good books lately?
Leave your link or tell us about your good reads in the comments section.