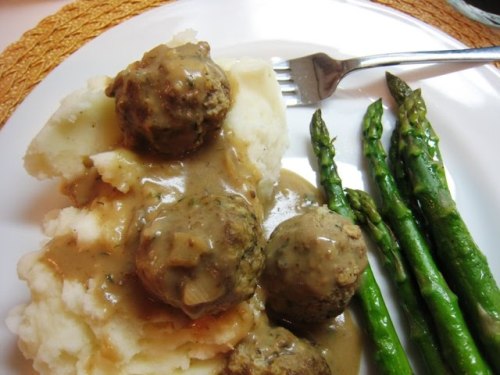 Freezer cooking or batch cooking can be a huge asset to a busy family. Cooking meals in advance and storing them in the freezer for later reheating can  save time, money, and unnecessary trips through the drive-thru. But, a common question I hear is what are some good recipes?
I thought this would be a great thing for us to discuss: What's your favorite thing to freeze?
It's hard for me to narrow it down to just one recipe; I have so many recipes I love. But, one current favorite at our house is Meatballs. They don't need to thaw, are quick to reheat, and are extremely versatile. I can douse them in red sauce and serve them over pasta. Or coat them in gravy and stack them on mashed potatoes. Or I create a Catalan sauce of tomatoes, mushrooms and green olives and serve them with boiled potatoes for Boules de Picolat. The possibilities are endless…. BBQ Meatballs, Meatball Sandwiches, Albondigas….
Need I go on?
My family gobbles these down. And I love to have a stash of Meatballs in the freezer.
What's YOUR favorite thing to freeze?

Curious about freezer cooking? Consider purchasing my cookbook, Not Your Mother's Make-Ahead and Freeze Cookbook from Amazon, Barnes and Noble, or your local bookstore. It's chock full with over 200 freezer-friendly recipes, planning pages, shopping lists, cooking plans, and basic and advanced how-to's to making freezer cooking work for any home, family, and lifestyle.