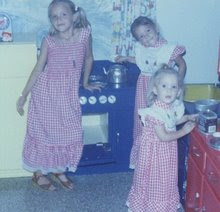 I have been blessed by a family that loves food. Both my sisters and both my brothers are fantastic cooks. I have been further blessed that one of them is here with me now to act as chief cook and bottle washer (as well as housekeeper and nanny) while I have a baby this week.
My sister Jamie, the brunette pictured here, is highly skilled in the kitchen. Last night we feasted on roast chicken, potatoes, salad and garlic bread as well as a yummy frozen strawberry pie. I think she spent 2 hours in the kitchen yesterday afternoon making sure everything was just right. And, as a testimony to her fine cooking, there were very few leftovers.
(Shh…she's got a food blog that she tries to keep a secret. She says that since she never measures, she doesn't want to lead people astray. But, check it out for some great ideas and take your chances on her recipe notations.)
This week I'm putting aside my bossy big sister role (if that were possible) and letting her take the reins. She braved SuperWalmart, not once, but twice this weekend to make sure we had all the supplies to feed our small army of children and have crafty entertainments to boot.
Here's what's on our menu for the week:
Monday – chicken quesadillas
Tuesday – noodles and sauce, veggies, and garlic bread
Wednesday – chef's choice
Thursday – Jamie's Signature Baby Homecoming meal – Flautas, complete with beans and rice and a salad and some decadent dessert
Friday – Jamie goes home and I'll dig into the freezer or we'll eat leftovers — if there are any!
For more ideas on menu planning and weekly inspiration, check out I'm an Organizing Junkie every Monday.