Hard cooked eggs and toast make a fabulous base for an easily assembled and highly portable breakfast sandwich.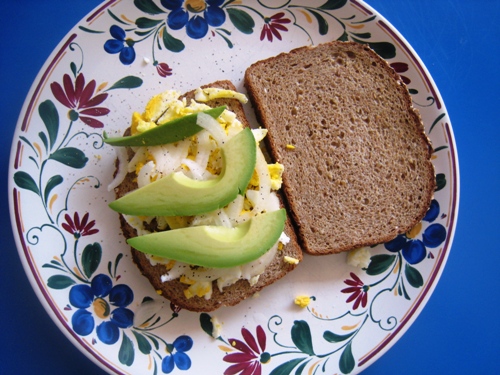 Breakfast can be a tricky meal. It's the most important, but it's also happening at a busy time. Mornings can be a rush. Somedays, I get the kids fed, but forget to feed the Mama. That's when a breakfast sandwich suits me just right.
Easily assembled and highly portable a breakfast sandwich can combine protein, fat, and carbs in one tasty morsel. And if you keep hard cooked eggs and sandwich bread on hand, you've got it made.
Or close to.
Here's how to build your breakfast sandwich:
1. Toast the bread.
I'm not a big fan of hard, crispy toast, at least not for sandwiches. I recommend toasting it enough to add structure to the sandwich but not so toasty that it scrapes the roof of your month. (Just saying)
2. Peel and mash the egg.
Each week I hardcook 8 to 10 eggs for our family to munch on. They cook quickly, store well, and are great for quick snacks or to pack in my husband's lunch. (We just keep them away from FishChick3 who has the egg allergy.)
For the sandwich, peel the egg and place it on the toast. Lightly mash it with a fork and spread it across your toast.
3. Add some flavor.
Here's where things get exciting. Add whatever you like to boost the sandwich to the next level. Consider these options:
avocado
tomato slices
sliced cheese
onion rings
spinach
sliced ham
salt and pepper
mayonnaise and/or mustard
There's no limit to your options. Try different flavor combinations until you find what you like. My recent concoction included toast, egg, avocado slices, and sweet onion. Can't wait for summer tomatoes to arrive so that I can add those into the mix. Yum!

URS Guidelines
Remember: Each week at Ultimate Recipe Swap, there is a posted theme. You are welcome to share any recipe that fits the theme and contains a link back to Life as MOM. If you're curious about the upcoming themes, I have a calendar here. Last week was Dairy, this week is Breakfast, next week features Easter and/or Passover.
If you have a recipe that fits the theme, please link it. However, things like Beef Strogonaff will be deleted from Chicken week because it doesn't contain chicken. Please keep this meme as helpful to others as we can.
And don't make me the bad guy! 

What's your favorite recipe for Breakfast?