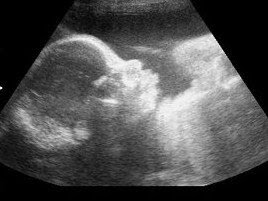 Here's our Little FishBaby. I got to catch another glimpse of her yesterday at my dr's appt. Since I have babies who are "large for gestational age" (LGA), my doc stays up on size issues. This was my fourth and final sonogram before delivery. All's good in the womb.
Things I'm thankful for:
My most excellent doctor – he has been one of the redeeming qualities of living so far from home. I never had an OB so "withit" in CA, nor one who was SO respectful of a mother's wishes. He followed my "all-natural" birth plan to the letter. Can you say no drugs, no episiotomy, no intervention — and perineal massage? I was amazed.
Baby appears to be about 6 pounds, 12 ounces right now. That means that with up to 1/2 pound gain per week, she might even sneak under the 9 pound mark, something I haven't seen since three children ago.
I can eat to my heart's content. Dr. A, upon questioning, said that no matter what I eat at this point, she won't be an Amazon-sized baby.
Things to pray for:
That this girl sit tight until a night when Dr. A is on call or until we possibly induce on the 26th. She's due on the 27th. Though I have always been "all-natural" and therefore, "anti-induction," I'd much rather have MY doctor who will only break my water, than run the risk of being in labor with a doc who isn't friendly to my birthplan. I trust Dr. A emphatically, the others in the practice, not so much.
That it would be an easy induction and labor. Last time was 4 hours from start to finish. I'll take that.
That I would be mentally "ready" for the pain involved. Though the last two deliveries have been wonderful, I still have a fair degree of anxiety about those four or so hours of discomfort and "out-of-controlness".
That FishBaby would have no complications. They did find a cyst on her right eye. They rarely see something like that, but that may be because late term ultrasounds are not super common. In fact, the tech had never seen it, but she guessed it was a blocked tear duct. Three of the other FishKids were all born with that, so it would make sense that that is probably what it is. Inconvenient for a time, but no major deal. Either way, your prayers are appreciated for a healthy little baby.
I'll keep you posted and we'll have a weight guessing game late next month!