We are gearing up for school to start soon. We actually don't begin lessons until after Labor Day, but I've been planning the year's coursework, purchasing curriculum, and preparing myself for a busy, busy schedule. Yesterday when I mapped out the daily routine for our home school, I realized that I need to be uber-prepared. Every minute is spoken for!
As such I thought about ways that I could streamline the days and one solution I came to was simplifying meal times. I already shared with you my weekly prep list that I think is going to be a huge asset to me in the coming weeks. Prepping a bunch of stuff in advance, stuff that I normally do everyday anyway, is going to help us tremendously in the kitchen.
For instance, I am reusing these veggie trays from the grocery store and refilling them each week with fresh veggies for dipping.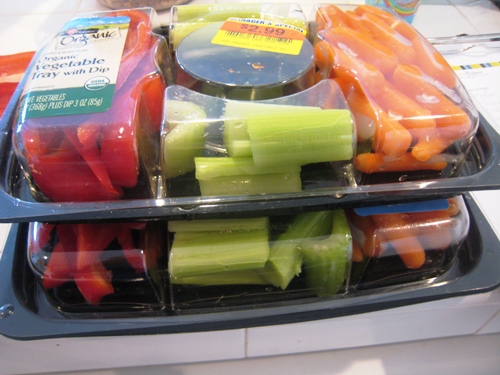 I also created regular menus for breakfast, lunch, and snacks. I'm going to make things pretty streamlined, especially for this first month of school when I will also be editing The Cookbook in a back and forth fashion with my editor.
I don't want my kids to have to ask permission to get a snack or fix their own breakfasts. So, I'm creating lists of menus that they can build from. Yesterday afternoon I picked up our produce co-op load as well as cruised by Costco to buy whatever else we might need to get us through the first couple weeks. I'm spending today prepping things to freeze and organizing the kitchen.

This month the Eat Well, Spend Less girls are talking about back to school meal planning as well as tips and tricks to pull off every meal of the day in delicious, nutritious, and budget-friendly fashion. I'm so thankful that I don't have to do all this problem solving on my own! These ladies have got it covered.
Check out these posts:
Back to School Breakfast :: Aimee has got us covered with a breakfast plan. I've only recently discovered the beauty of baked oatmeal and can't wait to try her version. I may even try to freeze it. (You know me….)
Preparing for Busy School Weeks :: I love the way Mandi thinks. Ever the organizer and girl after my own heart, she's put together a quick list of ways to get prepared, get the job done, and stay sane. I'm all over that, especially the idea of preparing some quick sandwich fillings at the beginning of the week.
Back to School with Food Allergies :: Kitchen Stewardship tackles the weighty responsibility of allergy-free school lunches. While I'm not packing lunches to go away each morning, I do like to make lunch ahead of time for homeschool. And since our littlest one has nut and egg allergies, I appreciate Katie's clever solutions.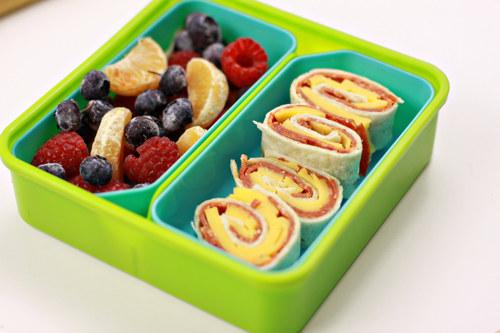 The Art of Back to School Lunches :: Shaina gives us the lowdown on not only how to pack lunches but also how to make them delicious and appealing. That girl could make "art" out of liver and onions, I'm sure, so you can bet her lunches look good!
Tips for Packing Affordable School Lunches :: While I love, love, LOVE all the super cute bento lunches that I've seen on the internet, I also know that if my kids won't eat it or if it's too expensive, then it doesn't help us. Earlier this week, I presented some tips for packing budget-friendly, yet healthy school lunches.
Easy Recipes for Homemade Snacks and Quick Snacks for a Busy School Year :: Since I am raising a tribe of hobbits (wee folk who are always hungry), I love Katie and Carrie's ideas for quick and easy snacks. Katie's homemade hummus and fruit kabobs look delicious! And I love Carrie's simple but hearty reminder about serving popcorn as a snack. Yeah! Mother of the year, right there!
Quick Suppers :: Kingdom First Mom gives some great tips for quick suppers. I love these ideas! Be sure to read through each one and see how you can make suppertime happen in a flash! And I can so relate to the crockpot disasters that Amy mentions; heed her advice and avoid a dinnertime fail on a busy school night!
Cooking from Scratch While Homeschooling :: Tammy tackles a tough topic in addressing how to cook from scratch after you've been teaching all day. We all know that eating homecooked food is better for the budget, but that can be hard to pull off when you're busy all day. I imagine that the same tips will work well for other home managers who are busy during the day or who work outside the home.
What YOU got cooking?
What kind of Back to School meal planning and recipes do you lean toward during the school year? We wanna know! Share your favorite BTS recipe in the comments.