It's officially stock up on school supplies and dust off the lunch box supplies time. How can you shop wisely and reap back to school savings?
If you haven't been inundated already by school supplies sales, I'd be surprised. Even though I did my shopping as soon as the 4th of July was over, I still get the texts from Old Navy about clothes, and I still see the signs (and the temptation) of the Back to School Section.
Certainly, this is a great time to stock on things that you will use all year long. It's also a time when you might get snookered into buying something that you or your child don't really need.
Case in point: The cute Minion party bags that I had no purpose for when I bought them. I thought I might have it together enough to make gift bags for each of the kids for the first day of school. Seeing as we're marking the end of the second week, I guess that isn't going to happen.
BUTTHEYWEREONSALEANDTHEY'RESOCUTEANDICOULDUSETHEMASGOODIEBAGSATAPARTY.
Yeah, they were, and I could, but I think I just wasted $4.20. In fact, I just saw someone stepping on one on the kitchen floor.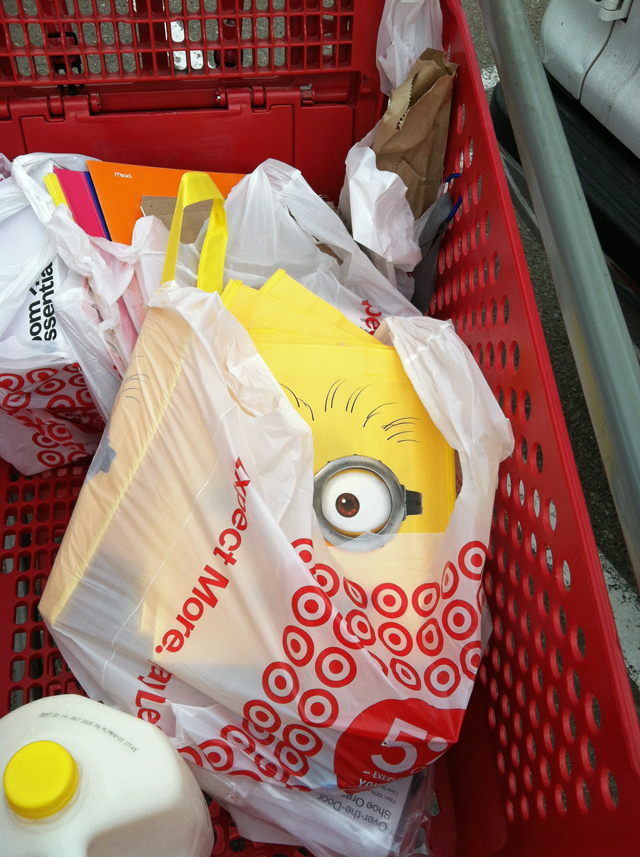 Let this be a lesson to you my friends. Take this as a cautionary tale about back to school spending: You could probably spend less than you think.
Consider these ways to reap yourself some back to school savings:
1. Take inventory.
It's so tempting to hop in the car when you get that text from Old Navy, but do you really need to? If you save hand-me-down clothing or have generous grandparents or just love to shop, it may be that you already have that thing you were thinking of buying. JessieLeigh has some great tips for what assessments to make prior to back to school.
Take inventory of school supplies, clothes, and lunch packing supplies before you shop. This way you won't overbuy, and you won't be caught having to make do when you're missing something.
You may find out that you don't need to buy something that you would normally buy a ton of. For instance, I found enough crayons for a small country in my home this summer. My kids sorted through them and reboxed them for use this school year.
Yes, I know it's really fun to have a new box of crayons — I love that!– but there's no need to waste, even at 25¢ a box!
2. Pay cash.
I know people don't like to do this, but I think there is a controlling effect to cash. If you think that $50 is a reasonable amount of money to spend on school supplies, then pull that $50 from the bank. That's what you have to spend. Do not pull out the plastic. Do not overspend.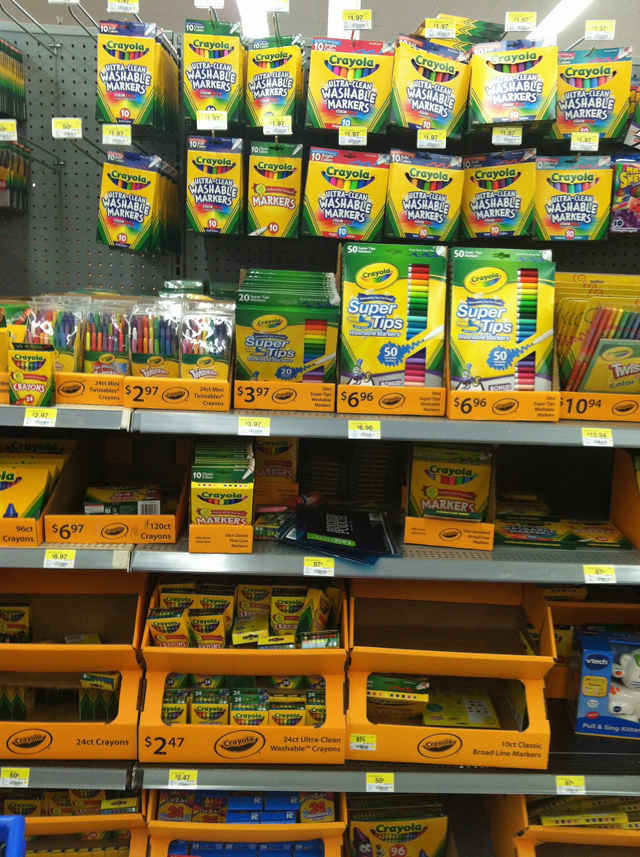 3. Make a budget.
Let your kids know their budget — and stick to it. If your kids' choices are going over the allotted amount, explain to them that they can't have BOTH the Hello Kitty lunchbox and the Frozen folder. Let them choose, but don't let them overspend.
Turn it into a learning experience: take the calculator and have them do the sums.
It also helps to make this shopping expedition in the early morning or evening hours so that you can avoid crowds and the peer pressure of running into friends who are buying ALL THE THINGS. Budgets are not bad things, so don't let someone else spend more of your money than you want to.
4. Shop the sales judiciously.
There are quite a few stores that want your back to school dollars: Target, Walmart, Office Max, Staples, Amazon, to name a few. Some of good sales on some things. Check the ads before you go. If you can't find the ads, you can browse retail sales here.
If you really want to go to all of them, go for it. But, it may be in your best interests to choose one store with the best sales on the things that you need, even if it's not all the things you need. Sometimes that running around prompts us to spend more than we would if our choices were a little more limited.
5. Think past school hours.
Back to school sales are for more than back to school. Last year at this time, I was preparing for our Great European Vacation. The kids needed nicer, a little more formal clothes that school uniforms suited nicely. I bought small bags and organizers and hand sanitizer in abundance via the back to school section.
School supplies are also great for packing boxes to donate to Operation Christmas Child or other organizations. Check with your local foster care program to see what needs the children have. You may be able to buy school supplies for a child in need as well as your own. Believe it or not there are lots of ways to give to others and be creative with school supplies.
Back to School shopping can be a great opportunity to stock your home with the things that you and your family need. But, like Black Friday, it's also a time to exercise caution and save every $4.20 you can.
What's YOUR trick to back to school savings?