This giveaway is closed. Congrats to the winner: nbhendricks@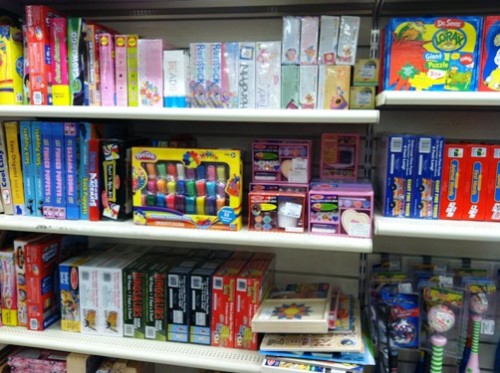 Even though we're not starting back to hardcore school until after Labor Day, I went "back to school" shopping this week. This is when the sales are to be had, right? I didn't want to miss out on any good deals. So, I braved the crowds.
I've gone out thrice so far this week: once by myself, twice with kids. I may need to go again. There's only so many stops I can make before I'm ready to go home.
New stops on my route this year were Marshalls and TJ Maxx. The stores sent me gift cards to check out their selection.
I wasn't sure what I would find, especially since our clothing needs aren't what they would be if my kids went to "away school". Contrary to popular belief, we do not do school in our pajamas. At least not often.
Yet, I know that my kids don't need the vast selection of clothes that they would if they were heading out every day. Or the matching socks. I realize that I have been spared much heartache and early morning frustration in this, for which I am quite grateful.
Shopping at Marshalls and TJ Maxx
It was a nice experience at Marshalls — well, except for the little girl Carina who wouldn't let her mama tell her no. She did a fake wailing cry (wailing) each time her mom said, "No,"and then promptly stopped once her mom put her requested item in the cart. Oh my. Obviously, that's not the store's fault.
Anyway, back to the shopping trip. I was very pleasantly surprised to find a great selection of books, arts and crafts, puzzles, and other activities for kids. They had a fabulous selection of Melissa and Doug products. I found some really great things to add to our homeschool: a couple brain puzzles, some Melissa & Doug activity packs and a Ninjago pencil case.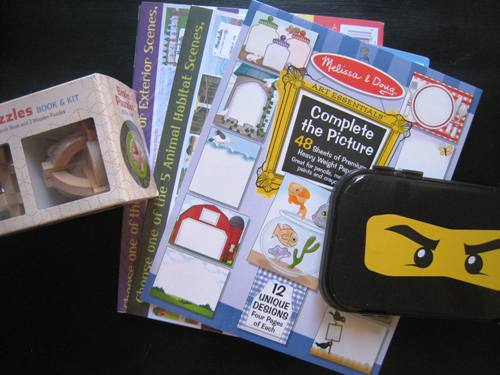 The prices were clearly well under list price, so it made shopping a pleasure. I knew I wasn't spending more than I might someplace else.
I'd never been to our TJ Maxx before. It's a lot fancier than I expected. I took the four kids under 12 with me, hoping to find some new shoes. We were a little disappointed that there were no kids shoes in the store, and the kids' clothing sections were rather small.
I'm guessing that this varies by location, depending on clientele and store size. Regardless, I think there are options for everyone, depending on your location and what you're looking for.
I'm pretty jazzed with these "fun and educational" items that I picked up for pack to school.
Save the Children Back to School Quilt
Over the last 29 years, T.J.Maxx has partnered with Save the Children U.S. Programs to bring about change in the lives of children. Starting this month and continuing throughout the back-to-school season, there will be three ways for shoppers to join their efforts: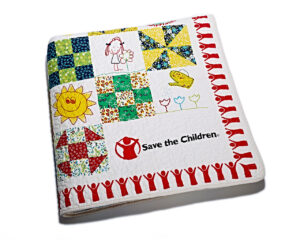 Purchasing a quilt ($49.99) featuring bright, colorful designs with 25% going back to the foundation
Buying a reusable STC bag at the register to tout around town
Giving a dollar at the register – each effort goes a long way!
Win a gift card to Marshalls and TJ Maxx.
This weekend one Life as MOM reader will win a $25 gift card to Marshalls and TJ Maxx.
To Enter:
Simply complete the information on this form. Please know that the information is only being gathered for the purposes of mailing you your prize in the event that you are chosen as the winner. This information will not be sold, traded, or given away.
This promotion is open until Sunday, August 11, 2013, at 8 pm PST and is limited to US residents, 18 years or older. Friends and family of Jessica Fisher and Life as MOM are ineligible for entry. Please enter only once. The winner will be chosen randomly. The prize for this promotion is provided by and shipped by Marshalls and TJ Maxx and/or its representatives. Jessica Fisher and Life as MOM cannot be held responsible for lost, undeliverable, or misdirected deliveries. This post will be updated with the beginning of the winners' email addresses.
Disclosure: I received a gift card to each store. All opinions are my own.